Knapp Library hosts 'Underground Railroad
Quilt' program

Send a link to a friend
[NOV. 15, 2003] MIDDLETOWN -- Saturday, Nov. 22, at 1:30 p.m. Pat Cooper of Middletown will present a program, "Underground Railroad Quilt," at the Knapp Library, 101 S. Clinton.
The Knapp-Chestnut-Becker Historical Society is beginning a traditional observance, "Thanksgiving Tea Time," and is happy to have Mrs. Cooper display her quilt and inform the public about survival during the Underground Railroad days.
Her "Purple Mountain Majesties" quilt was among those chosen for inclusion in the book "Great American Quilts" in 1987 and later for the book "In Love With Log Cabins."
The public is invited to the program. The library is handicapped-accessible.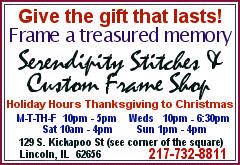 Books for young and old
The Knapp Library also encourages both beginning and veteran readers to visit and discover the delights of many books and magazines, such as "This Is My Story," about veterans of Logan County, published by the Logan County Genealogical and Historical Society; National Geographic's fabulous edition of King Tut of Egypt; and an interesting volume on great homes and castles of Scotland.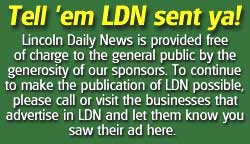 For youth, Brian Cook's autobiography is important. Vital information about growing up is provided by Dr. James Dobson in his book about adolescence. Fun and fantasy await the readers of C.S. Lewis' adventures in the land of Narnia.
Two new bookcases for mysteries entice seekers of Miss Marpole and Sherlock Holmes.
Literature on "Great Courses" by the Teaching Company has just arrived. There is a catalog of college courses available on audiotapes and CDs.
Then there's the question of whether a person has age-activated attention deficit disorder, senior citizen or not. Readers may visit the library to diagnose themselves, courtesy of Edna Kirby of Petersburg.
[News release]