According to Eric Fricke, a seventh-grader at Mount Pulaski Grade School, area churches also offer youth group activities. At Mount Pulaski Christian Church, "We play cool games like Romans and Christians," he said. "We also studying the Bible and have Big Wednesdays." Big Wednesday is a monthly fun activity open to all youth in the community.
Fricke is also active in the local Boy Scouts, another organization actively supported by the community. In fact, Troop 122 just returned from a nine-day excursion to Cache Lake in Ontario, Canada. They also sponsored the pork chop dinner at the Mount Pulaski Fall Festival Thursday evening. The troop is currently raising money to purchase new tires for the troop bus.
"Everybody has to pitch in and help," said David Rankin, age 12, as he washed dishes for the Boy Scout dinner. Rankin, along with Fricke and the rest of the troop, served food, refilled glasses, bussed tables and cleaned up. Both boys are also active in the junior high band.
Along with local school and church functions, the Mount Pulaski community has further invested in its youth by supporting a local hangout, Bertoni's Coffee House.
Bertoni's serves more than kitschy ice coffees; it offers a casual atmosphere for all ages.
For your morning buzz, Bertoni's is open from 7:30 to 10:30 a.m. weekdays. It opens again in the afternoon from 3 to 5, hopefully catching the after-school crowd. On Fridays and Saturdays, it is a cool hangout from 7:30 to 11 p.m. And local church groups or other groups can come in exclusively on Sunday evenings.
What's cool about Bertoni's? According to Brittany Holmes, a junior at MPHS, the coffeehouse offers everything a budding socialite could want: free use of Internet-accessible computers, movies, board games and cards, and a "great place to meet your friends."
Prior to the coffee shop's opening in summer 2002, teens congregated on the courthouse square, often disturbing the neighbors. "This is so much better," Holmes stated. She and Nathan Gee, age 14, were waiting at a table for more friends to gather. The coffeehouse bustled with youth from ages 7 to 17. Gee stated that before Bertoni's, kids just "hung out at home."
The coffeehouse is as homey as it gets, with large La-Z-Boys and deep couches to recline on, '20s style diner booths, and other eclectic furnishings that give it a casual, relaxing ambience.
[to top of second column in this article]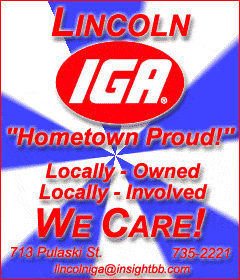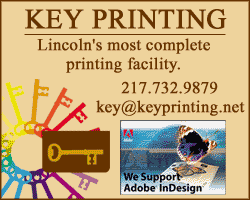 According to coffeehouse director JT Thomason, "Our vision was to have a place for kids to come to." Thomason, a volunteer who is also the junior and senior high youth minister at Mount Pulaski Christian Church, sees this project not as a moneymaker, but an investment in the future of our youth.
Thomason, along with Bill Miller and John Robertson, were painting and building shelving units in the shop. Miller and Robertson are also ministers at the Christian Church.
According to Thomason, Bertoni's has encouraged local businesses and organizations to support this nonprofit community project. And the Mount Pulaski community has again come through. Just this week, the shop received an anonymous $1,200 donation.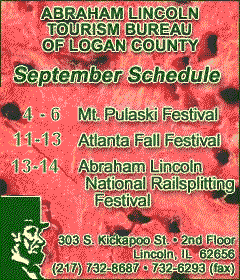 "Business is going well -- even better than we thought," reported Thomason.
Some of the other amenities offered by this project will include homework tutoring in the afternoons and morning computer classes for senior citizens.
And parents can rest assured that this is a kid-safe place: Rules include no horseplay and monitored Internet access. "We are keeping the music mellow," Thomason stated, offering a mix of some contemporary Christian music with old TV theme songs like "Laverne and Shirley," as well as cool sound effects.
This layout was inspired by Einstein's Coffee House in Lincoln and Common Grounds Coffee House in Taylorville, both of which offer live music. "That may happen down the road," Thomason stated.
He is currently excited about offering an after-the-game hangout on Friday nights. Thomason said that the coffeehouse will show a replay of the local home volleyball or basketball game and offer pizza. "This way, the players can watch themselves play the game."
The coffeehouse is currently putting up original photographs from as early as 1912, when Rinaldo and Pauline Bertoni owned the restaurant. In the 1950s, Bertoni's was the first local business to offer air conditioning, causing business to soar. With ornate, vaulted ceilings and low-hanging fans, the building still maintains the flavor of its predecessors.
Phil Bertoni is the grandson of the original owner of the building. He will be doing some of the after-school tutoring.
The original soda fountain may be gone, but the menu is geared toward the youth of today. It includes 50-cent sodas and $1 bottled root beer, blackberry and cream soda, 50-cent candies, chips, and gum, and for those who want to sit and unwind: the $1 endless cup of coffee.
[Patricia Rankin]