---
---

---
---
Submit letter to editor online
---
Contact us
---
LDN is best viewed with
Internet Explorer 5.0 or 6.
---
LDN awards
Local:
Dec. 16, 2001
Local Emergency Planning Committee
Jan. 25, 2001
Logan County Healthy Communities Partnership
State:
Oct. 1, 2001
Illinois Public Health Association
posted daily OVER THE NOON HOUR (CDT)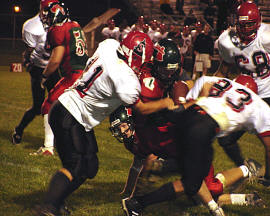 Railers win over Springfield High in second half 20-6!
[Picture by Bob Frank]








Sesquicentennial party continues

Christmas parade to depict past, present and future

Driving caution appreciated

Blagojevich calls on FDA to reverse policy on importing drugs from Canada
Enlists help of fellow governors in fight for lower drug prices

Lincoln Wal-Mart hosts community blood drive this Saturday

Reading of cowboy poetry at Middletown library

What can you bring to the household hazardous waste collection?
LDNs of the past week: