Honorary regiment for outstanding citizens
Under legislation currently pending before the Illinois Senate, citizens who have made outstanding contributions to their communities could land a commission as an honorary colonel.
Senate Bill 1776 creates an honorary regiment of colonels, to be known as the Governor's Regiment, within the Department of Military Affairs. Individuals whose accomplishments, achievements or service have contributed to the fellowship and good will of the state of Illinois would be appointed by the governor to the regiment and receive the honorary title of colonel.
This legislation is based on the honorary regiment established in Kentucky. The title of "Kentucky Colonel" has been around since the conclusion of the War of 1812. Initially, the colonels actually served military roles, but near the end of the 19th century, the position took on a more ceremonial function. By the late 1920s, a group of colonels started talking about forming a "society" whose mission would be to assist in the advancement of Kentucky.
The honorary regiment in Illinois would recognize the achievements of extraordinary citizens, as well as create an organization whose sole purpose is to be an ambassador of good will for the state. We want to assemble a group of people who have already done great things for the state and ask them to work together for the good of Illinois.
[to top of second column in this article]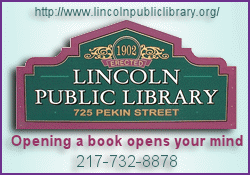 New Americans workshops May 7 in Bloomington
A New Americans Initiative citizenship workshop is scheduled for 9 a.m. to noon on May 7 at the Western Avenue Community Center, 600 N. Western Ave. in Bloomington.
A project of the Illinois Coalition for Immigrant and Refugee Rights in cooperation with the Illinois Department of Human Services, the New Americans Initiative is a state-funded, multiyear campaign intended to link legal permanent residents directly to the information and services they need to successfully pursue citizenship.
For more information, call (309) 829-9231.
[From Sen. Bill Brady]