Crash claims LCHS student

Send a link to a friend
[APRIL 4, 2005] A late-night crash has claimed the life of a Lincoln High School student. Sonya Twist and her father, Matthew Twist, were returning to Lincoln from Champaign at 11:33 p.m. on Saturday. Sonya was driving. According to a state police report, they were about five miles east of Lincoln on Route 10 when their 1997 Hyundai Elantra left the roadway and struck a guardrail adjacent to the westbound shoulder.
The Twists were both transported from the scene to Abraham Lincoln Memorial Hospital with life-threatening injuries and later air-lifted to St. John's Hospital in Springfield by Air Evac.

Sonya was pronounced dead at 3:37 a.m.

Mr. Twist remains hospitalized at St. John's Hospital.

Sonya had earlier had a French horn lesson from a U of I professor. She was heavily involved with many school activities, including band and drama.

She was also involved with Lincoln Christian Church youth group activities.

Her father strongly supported all her activities and was in attendance at them.

Principal Joyce Hubbard said that Sonya was "such a bright spot" and will be missed by many teachers and students.

The school has lots of extra people on hand today to help deal with the loss. Logan-Mason Mental Health and the youth minister from Lincoln Christian Church are helping with counseling. Classmates and teammates are being directed to go to the IMC (library) or the auditorium.

The cause of the accident is still unknown. There were no other vehicles or victims involved. The investigation is being handled by Illinois State Police, District 9. The Sangamon County coroner's office will be determining the cause of death.

The following agencies assisted in dealing with the accident:
Logan County Sheriff's Department
Logan County Paramedic Association
Lincoln Rural Fire Department
Lincoln Fire Department
Beason Fire Department
Air Evac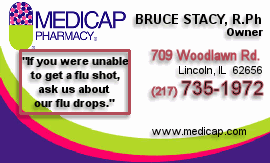 ---


Vote "YES" for the Public Safety Tax to keep vital Logan County services!
Public Safety Tax
If Logan County voters reject a 0.25% Public Safety tax increase, serious consequences will result:
1. Sheriff's Dept.: Public safety will be at risk because 7 deputies & 3 other employees will be cut
2. Highway Dept.: Snowplowing, road & ditch work will be reduced because 2-3 employees will be cut
3. County & Circuit Clerk: Services will be reduced as 4 employees will be cut
4. Animal Control: Recent improvements in jeopardy. Hours of operation & employee hours will be cut
5. Logan County Health Dept.: Services for many Logan County residents will be severely reduced as 6 employees will be cut; Rural Health Mobile Unit services will be eliminated; clinic hours reduced
The Lincoln & Logan County Development Partnership supports the Public Safety tax increase. Quality of life for many Logan County residents will suffer if this is not approved.
For more information, please contact:
Elizabeth Davis
Ron Schilling
Bobbi Abbott
Dave Hawkinson
Marty Ahrends
Grant Evitts
Dan Freesmeier

Todd Lowman
Jerry Johnson
Jim Hawes
Marty Neitzel
Bill Glaze
Paul Short
---