Federal grants benefit local law enforcement and emergency response agencies

Send a link to a friend
[APRIL 5, 2005] SPRINGFIELD -- On Monday, Gov. Rod Blagojevich encouraged law enforcement and emergency response agencies outside Cook County to apply for a new direct federal assistance program that could provide them tools to better protect and respond to their citizens in the event of a disaster. Communities can apply to receive equipment to enhance and support regional response, mutual aid and interoperability of responder equipment.
"Through the Illinois Terrorism Task Force, we've been able to provide a great deal of vital equipment to local responders, including personal protective equipment to more than 70,000 first responders throughout the state," Gov. Blagojevich said. "While we've been able to build a homeland security program that is recognized across the nation, I encourage local law enforcement and emergency response organizations to take advantage of this opportunity to further enhance these efforts."

The U.S. Department of Homeland Security launched the Commercial Equipment Direct Assistance Program to help response agencies outside the major metropolitan areas with personal protective equipment, detection and sensor devices, information-sharing software for law enforcement operations, and communications interoperability systems.

The competitive federal program offers equipment currently available on federal contract that will be used to respond through mutual aid and to protect infrastructure in the selected areas. Applicant requests will be coordinated with the state homeland security program to ensure it is consistent with the state's strategic plan.

[to top of second column in this article]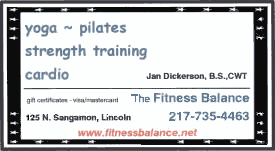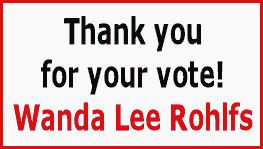 Vote "YES" for the Public Safety Tax to keep vital Logan County services!
Public Safety Tax
If Logan County voters reject a 0.25% Public Safety tax increase, serious consequences will result:
1. Sheriff's Dept.: Public safety will be at risk because 7 deputies & 3 other employees will be cut
2. Highway Dept.: Snowplowing, road & ditch work will be reduced because 2-3 employees will be cut
3. County & Circuit Clerk: Services will be reduced as 4 employees will be cut
4. Animal Control: Recent improvements in jeopardy. Hours of operation & employee hours will be cut
5. Logan County Health Dept.: Services for many Logan County residents will be severely reduced as 6 employees will be cut; Rural Health Mobile Unit services will be eliminated; clinic hours reduced
The Lincoln & Logan County Development Partnership supports the Public Safety tax increase. Quality of life for many Logan County residents will suffer if this is not approved.
For more information, please contact:
Elizabeth Davis
Ron Schilling
Bobbi Abbott
Dave Hawkinson
Marty Ahrends
Grant Evitts
Dan Freesmeier

Todd Lowman
Jerry Johnson
Jim Hawes
Marty Neitzel
Bill Glaze
Paul Short
---
Applications for the federal assistance program are available online at www.rkb.mipt.org and can be submitted between April 5 and May 5. Pre-application material and guidance documents are currently available on that website. The Office of State and Local Government Coordination and Preparedness will notify successful applicants later this spring.
Chicago and Cook County receive Urban Area Security Initiative funds from the U.S. Department of Homeland Security and are not eligible for this grant program.
Questions regarding the Commercial Equipment Direct Assistance Program may be directed to 1 (800) 368-6498.
[News release from the governor's office]