City briefs, first week of April

Send a link to a friend
[APRIL 5, 2005] The Monday evening city council business meeting opened with Mayor Beth Davis saying, "Good evening, everyone. Go, Illini!"
* * *
Three bids were received for sewer extension to the new Dollar General Store to be built on Limit Street on the city's southeast side.
Harold Goodman bid $7,078.
D&D Sewer bid $9,144.
Stewart Concrete bid $9,658.16
The Goodman bid was accepted.
* * *
A request for a streetlight at the end of Madigan Drive near Blades Salon and Insurance Auto Auction was denied. City engineer Mark Mathon explained that the final plat of the Heitman Park subdivision waived streetlights. It stated that separate business owners would be responsible for lighting installation at their own expense.
* * *
A bid to perform the annual city audit with total fees not to exceed $15,500 was accepted from the Lawrence Travis P.C. and Company. The company is the same as last year's auditor. They offered a base bid of $14,000 plus $600 for each of the fire and police pension funds and $300 for out-of-pocket expenses. The base figure last year was $12,000 and the add-ons were the same, but the city will be paying $2,000 more for a lot more work in order to meet the new state-mandated government assets and depreciation accounting this year.
* * *
[to top of second column in this article]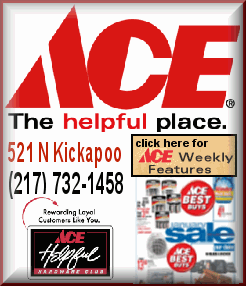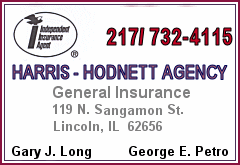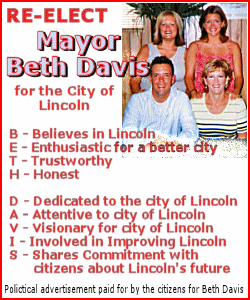 The city finance committee spent two Saturday mornings in March in budget meetings. Finance committee chairman Verl Prather said that they really made a lot of progress this past week when they met. They reduced a $200,000 deficit to $14,000. The committee meets again on April 16 at 9 a.m., and Prather hopes they'll balance expenditures and revenues and come out with a final budget. The 2004-05 budget is to begin May 1.
* * *
A proclamation from the National Arbor Day Foundation was read recognizing the city of Lincoln's efforts to maintain a healthy tree population.
National Arbor Day will be celebrated in Lincoln on April 20.
* * *
A petition to close a portion of Seventh Street near Christian Homes for Heritage Day festivities on April 30 was approved. The street section will be closed from 10 a.m. to 4 p.m. that day.
* * *
The council closed the meeting and went into executive session to discuss contract negotiations. Both fire and police union contracts are in collective bargaining at this time.