Mike Semprini

Send a link to a friend
Archived Aug. 8, 2005
McLEAN -- Mike Semprini, 85, of McLean died Sunday, Aug. 7, 2005, at 10:20 a.m. at Manorcare Health Services, Normal.
A memorial service will be at 11 a.m. Friday at the McLean Christian Church, with Tony Billingsley officiating.
Interment of cremains will be in McLean Cemetery, with military rites conducted by McLean American Legion Burger-Benedict Post 573.
There will be no visitation.
Quiram Funeral Home, Atlanta, handled arrangements.
Mr. Semprini was a store manager for Goldblatts Department Store in Chicago. He retired after 35 years with the company.
He served in the U.S. Army infantry during World War II.
He was born Feb. 23, 1920, in Chicago to John and Conchita Semprini. He married Marjorie J. Kindred on Aug. 12, 1946, in Atlanta. She died April 8, 2005.
He is survived by one son, Michael Semprini of Gold Canyon, Ariz.; one daughter, Mary Ellen Nowling of Milton, Fla.; four grandchildren; three great-grandchildren; and one brother, Jess Testa of Chicago.
Several brothers and sisters preceded him in death.
He was a member of the Elks Club, McLean American Legion and the VFW.
Memorials may be made to the McLean Rescue Squad.
---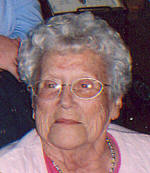 Helen Hines

Send a link to a friend
Archived Aug. 5, 2005
MOUNT PULASKI -- Helen Rose Hinds, 91, of Mount Pulaski, formerly of Elkhart and Latham, died Wednesday, Aug. 3, 2005, at 9:45 p.m. at Vonderlieth Living Center.
Visitation will be from 4 to 7 p.m. Wednesday, Aug. 10, at Fricke-Calvert-Schrader Funeral Home in Mount Pulaski. Her funeral will be at 1:30 p.m. Thursday, Aug. 11, at the funeral home, with Roger James officiating.
Burial will be in Steenbergen Cemetery.
Mrs. Hinds was a homemaker and, with her husband, owned and operated the Elkhart and Mount Pulaski school buses for many years
She was born May 26, 1914, at Kenney to Frank and Alta Grimes Abbott. She married Ralph "Pete" Hinds in Covington, Ind., on Sept. 3, 1932. He died Oct. 31, 1997.
She is survived by three sons, Larry R. (and Bridgit) Hinds of Nokomis, Richard A. (and Joyce) Hinds of Springfield, Stephen M. (and Rosanna) Hinds of King City, Calif.; two daughters, Dolores Hinds of Weslaco, Texas, and Cynthia Sue Kindell of Las Vegas, Nev.; 17 grandchildren; 25 great-grandchildren; and three great-great-grandchildren.
She was also preceded in death by two sons, Donnie Hinds and Jeffrey Hinds, and one daughter, Barbara Ann Hinds
She was of the Methodist faith.
Memorials may be made to Vonderlieth Living Center.
Click here to send a note of condolence to the Hines family.