Abraham Lincoln Memorial Hospital wants to know your thoughts about health care needs in the future. This week they will send a brochure and five-question survey to every area home and business. Community members are asked to read the information, fill out the postage-paid survey and return it to ALMH.

This request for community feedback is all part of a two-year project called ALMH 2010. ALMH President and CEO Woody Hester explains that both the hospital board of directors and administrators are taking a "timeout" to evaluate this community's health care needs in the year 2010 and beyond.

"The biggest threat to any organization is that its leaders become so caught up in the day-to-day challenges that they neglect to look toward the future," Hester says. "What results is an organization so far behind the times that it can never catch up. I don't want ALMH to ever be in that situation."

So, ALMH is asking community members for their ideas about future health care needs.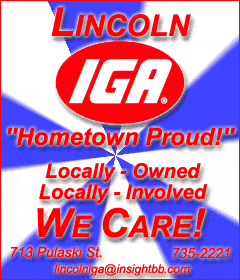 The informational brochure and survey will give every household in the ALMH service area a chance to learn about ALMH's needs for the future and four options for meeting those needs. Choices range from "most conservative," a plan in which ALMH upgrades technology and remodels interior spaces as needed, to a "most aggressive" approach of building a brand-new 21st-century health care center. In between are two options for dramatically expanding and renovating the current facility at 315 Eighth St.
Already, ALMH has heard from 114 local citizens in eight community focus groups at ALMH, Emden and Mount Pulaski. There is still another focus group planned for March 9, as well as presentations to the Lincoln Rotary, Kiwanis and Zonta clubs.
Those with additional comments about the ALMH 2010 choices are encouraged to send an e-mail to 2010@almh.org.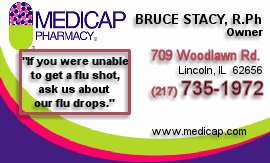 In mid-April, ALMH leaders will summarize the feedback they have received from the community. The ALMH board of directors will review this information, along with architectural advice and financing options, to make a final recommendation in the fall of 2005.
Driving the 2010 discussion is the need to update ALMH's energy plant, which is estimated to cost $10 million. Right now ALMH is operating on a 1950s single-loop climate control system. "We either have to heat the entire building or cool the entire building -- and that makes the temperature pretty uncomfortable for patients and employees at least six months out of the year -- not to mention how inefficient it is with today's energy costs," explains Hester.
Another need identified by ALMH staff is more room on the main floor for easy-to-access outpatient care. Experts predict that an aging population and new technology will lead to a 30 percent volume increase in outpatient care, including more demand for already busy services such as physical therapy, diagnostic imaging and same-day surgery. New technologies will also enable community health care centers like ALMH to perform many more outpatient procedures in the future that in the past have been reserved for larger medical centers.
The goal of the ALMH 2010 project is to create a convenient, friendly, high-quality "health center" that provides "feels really good" care and services to a predominantly outpatient population. "Yet only our community can define 'feels really good' care," stresses Hester. "This survey gives them the opportunity to tell us what kind of project they prefer and are willing to support."
[Marty Ahrends, executive director of community development, Abraham Lincoln Memorial Hospital]