Streets to close for memorial service Saturday morning
Streets surrounding All Veterans Park will be blocked off on Saturday morning from approximately 8 to 10:30 a.m. for a memorial service honoring Staff Sgt. Daniel G. Gresham, who died in Iraq on Feb. 24. ["Community to gather in honor of fallen Lincoln soldier"]
The park is located on Union Street.
Brownfields moving forward
The city is moving forward with an agreement with Randolph and Associates to apply for a state Brownfields Redevelopment Grant. Lincoln Parking LLC will be the first party to take advantage of the grant opportunity to restore a contaminated property.
While the property located across from the courthouse will be used only for parking, Alderman Derrick Crane said that he felt this would provide a good starting piece to get some experience in the process. He hopes other property owners will come forward before the opportunity provided by the state is no longer there.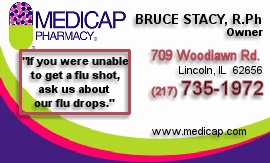 Traffic signal
The Illinois Department of Transportation had determined that a stoplight is needed at the corner of Woodlawn (Route 10) and the new Arthur's Park and Dollar Tree-Goody's intersection.
Funds for the engineering study and the light were designated in the current budget. The $19,000 for the engineering study will come out of the general obligation bonds that were taken out for the Dollar Tree-Goody's development.
Arthur's Park is under construction. Coy's Car Corner will be located in the subdivision. The business hopes to be open by July or August.
[to top of second column in this article]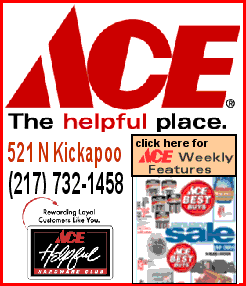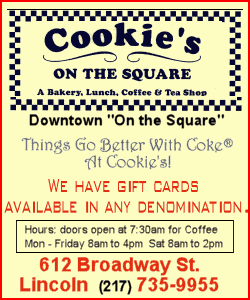 Sewer line install approved for Dollar General Store
A new sewer extension was approved to run from a manhole at Limit and Tremont streets approximately 350 feet north to the new business property. Sewer manager Grant Eaton said the total costs to install the line are estimated at $30,000. The Dollar General Store offered $5,000 to the city to assist with the improvement costs. Cyra LLC is in charge of the development.
Eaton speculated that work will begin when all the engineering plans and paperwork are in order, in about a month.
Sucking sand
The city is scampering to replace an aged lift station that has begun leaking. It was discovered a little over a week ago that a 38-year-old lift station that serves northeast Lincoln has rusted through and is leaking. Efforts to temporarily fix the Lincolnwood lift station fell through this past week. It is still working, Eaton said, though it's sucking in some sand. He is unsure how long that it will last, and it needs to be replaced soon.
In an emergency situation the bidding process can be circumvented by a two-thirds approval, and parts can be ordered directly. The matter will be voted on in adjourned session next Tuesday, March 15.
PrimeCo v. Municipal IMF
At the recommendation of city attorney Bill Bates, the city will stay in as one of many Illinois municipalities named in the telecommunications lawsuit. The anticipated shared expense is based on population and is just under $400 at this time.