Board opens floor
Concerned citizens address location of
proposed ethanol plant

Send a link to a friend
[MARCH 11, 2005] The tradition of visitors introducing themselves at the start of every meeting was bypassed last night when the packed Logan County Board room overflowed into the halls. The visitors were there to express their concerns on the location of an ethanol plant.
Illini Bio-Energy LLC of Springfield has taken options on farm acreage just north of Business 55 between Eaton Corp. and Nicholson Road. A purchase agreement is under negotiation, but there has been no request for zoning change yet.

The group, composed mostly of neighbors who will be affected by the plant's proximity to their homes, met earlier this week.

Illini Bio has made appearances before the board while they were searching for a site and, since choosing Lincoln, has made some requests to committees.

The group decided it was time voice their opposition to this location and asked to address the board last night.

Acting board chairman Gloria Luster headed the meeting. As she gave the floor to the group's spokesman, she clearly informed everyone that this is an issue that has had no formal proceedings conducted nor even scheduled to take place yet. "You need to go to the planning and zoning hearing when that happens," she said. The board has not even been approached about that yet.

"Nothing has been requested from the Bio-Energy plant at this time -- it may not even be here -- but we welcome you and are glad to listen to you," Luster said.

[to top of second column in this article]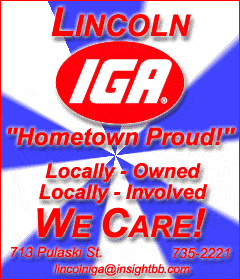 The group's spokesman, Dan Meyer, explained all that they have learned about the proposed plant and its potential impact on the area. Meyer and his neighbors are concerned about the proximity of the plant to homes, Eaton Corp., Maple Ridge and Adams School. The group cites environment and public safety as their main concerns.
Environment: The plant will be coal-fired, which has been known to contaminate air and water.
Public safety: There will be large quantities of fuel in the form of ethanol and gasoline at the site.
Some other concerns:
Increased traffic hazards to residents and farmers and road development costs (passed to taxpayers) related to heavy truck usage
Loss of taxes through tax abatements
Law requires an economic cost and benefit study
Decreased property values
Potential to dry up local wells due to heavy water usage
See related article: "Residents say, 'Not in our backyard'"