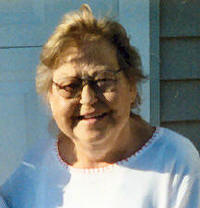 Brenda Lovin

Send a link to a friend
Archived March 23, 2005
ATLANTA -- Brenda Kay Spivey Lovin, 55, of Atlanta, died Tuesday, March 22, 2005, at 5:55 a.m. at her home.
Visitation will be from 5 to 7 p.m. Thursday at Fricke-Calvert-Schrader Funeral Home in Lincoln.
Her funeral will be at 1 p.m. Friday at the Full Gospel Tabernacle in Lincoln, with the Rev. Oscar Owens officiating.
Burial will be in Zion Cemetery, Lincoln.
She formerly worked at Lincoln Developmental Center as a technician.
She was born Sept. 18, 1949, at Mount Vernon to Charles Edward and Mary Imogene Lovin.
She is survived by her mother, of Atlanta; one son, Danny Tungate of Lincoln; one daughter, Brenda (and Mike) Garcia of Oklahoma; three grandchildren; one sister, Barbara (and Bobby) Cisco of Atlanta; and several nieces and nephews.
She was preceded in death by her father, one brother and her grandparents.
She was a member of the Full Gospel Tabernacle in Lincoln.
She had been a dialysis center patient for several years.
Memorials may be given to her mother, Mary Imogene Lovin.
Click here to send a note of condolence to the Lovin family.