Warmer temps trigger wild weather

Send a link to a friend
[MARCH 31, 2005] What timing. Not 24 hours after storm spotters received training on Tuesday evening, they were in action on the real thing. Warm, moist conditions met with a cold front that spawned numerous storm cells on Wednesday afternoon. The areas most affected ranged from central Illinois northward and moved from the southwest to northeast.
High winds, wind gusts and hail were the prominent features of this storm system. Several tornadoes were identified, but none were in Logan County.

Storms coming out of Springfield passed through Logan County and moved on to affect the Bloomington area.

Potential warnings of severe weather were confirmed by the Logan County ESDA at 11:36 a.m. The National Weather Service issued the first tornado watch for Logan County between noon and 1 p.m. By 2 p.m. winds had escalated to hazardous. High straight-line winds blew vehicles off the roadways in Sangamon, Logan and Menard counties. The most damage reported was three to four miles east of Lincoln, where wind tore shingles off a building and hail damaged siding on another building.

Winds reached a high of 65 mph and gusted to 45 mph. Hail fell at different times throughout the county and ranged from pea size to golf ball size.

[to top of second column in this article]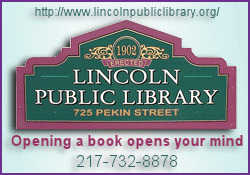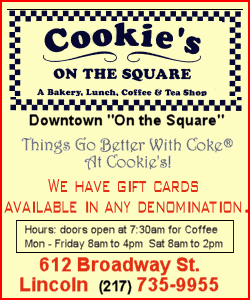 Golf ball-sized hail was reported at 1200th Street and 1600th Avenue between 4 and 5 p.m.
A utility line went down at 3:30 p.m. in Latham. Atlanta and Latham had short power outages.
Several bouts of rain pummeled the area but resulted in little accumulation.
Lightning and thunder accompanied some of the cells.
It was approximately 8 p.m. before warnings lapsed and the weather settled into general wind and some scattered rain.