Children's Health Fair promotes
play and learning

Send a link to a friend
[MARCH 30, 2005] The 19th annual Children's Health Fair will be on Friday at the Lincoln Park District's Indoor Sports Center, 1400 Primm Road, with sessions between 8:45 a.m. and 2:30 p.m.
Fifth-grade students from Lincoln and Logan County schools will be brought to the Indoor Sports Center for two-hour long segments during the day. Home-schooled fifth-grade students are also invited to attend.

The goal of the Children's Health Fair is to encourage children to learn about health in a way that allows them to play an active part in the learning process. More than 30 agencies will be represented at the fair.

The children will receive information about such topics as cancer prevention, exercise, nutrition, hospitals, dental health, disabilities, drugs and alcohol, emergency services, safety, personal hygiene, and posture.

Special features for 2005

There will be a visit from the Springfield-based Air Evac helicopter. Air Evac Lifeteam was founded in Missouri by a group of private citizens who wanted to give the people in their community better access to emergency medical care. Air Evac has provided air ambulance care to more than 50,000 patients in rural communities since 1985 and currently has bases in nine states.

The students will once again be going through a Heart Adventure Challenge Course. Research studies have supported the notion that children learn best through play experiences. The Elementary Heart Adventure Challenge Course does just that. What better way to learn about the most important muscle in the body than to experience going through it! Students are physically involved while navigating the blood's pathway through the body.

[to top of second column in this article]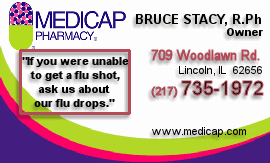 The fifth-graders will also view a presentation by students from the Illinois Math and Science Academy. The group known as D.A.R.T., for Drug Alcohol Resistance Team, will present a skit on tobacco use prevention.
This year's student competition before the health fair focused on the healthy aspects of walking. A distance walking challenge was given to each of the participating schools. Classes walking the farthest will win prizes. The D.A.R.E. program -- Drug Abuse Resistance Education -- has sponsored the first-place class with a large bag of sports equipment. The top two classes will receive pedometers from McDonald's.
Questions about the Children's Health Fair in general or about involving home-schooled children should be directed to Marcia Dowling at the Logan County Health Department, 735-2317, or Marcia Greenslate at the Lincoln Park District, 732-8770, 9 a.m. to 4 p.m.
[News release from the Lincoln Park District and Logan County Health Department]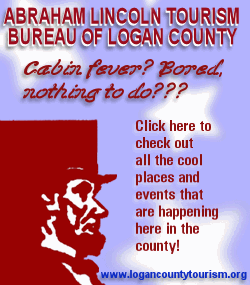 Life Sentence, No Parole

If we tried to invent the cruelest punishment for dogs, we probably couldn't come up with anything worse than "solitary confinement" on a chain or in a kennel.

Dogs are pack animals who crave the companionship of others. Scratches behind the ears, games of fetch, or even just walks around the block mean the world to them. Curling up at your feet while you watch TV is their idea of heaven.

Many dogs left to fend for themselves at the end of a chain fall prey to attacks by other animals or cruel people, and many others are injured or hanged or choke as a result of getting entangled or caught in their tether.

If you have a backyard dog, please, bring him or her inside. They don't want much--just you.

A public service announcement from Lincoln Daily News and helpinganimals.com