Columbus (1451-1506) is credited with "discovering" North America in 1492 for his sponsors in Spain, King Ferdinand and Queen Isabella (whose faces appear in a medallion on the rear of the memorial). His last name is the source of the "Columbia" in the District's name.
The memorial (in Washington DC) was paid for by the Knights of Columbus. The memorial is a much l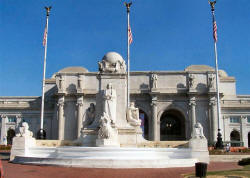 arger fountain, featuring carvings of a native American, an elderly European, the figure of "Discovery"on the prow of a ship, and a globe.
On Columbus Day (October 12 or the Monday closest to it), Italian, Spanish, and American dignitaries and groups lay wreaths at the base of the memorial."
[photo by Stan Stringer] click on the picture for a larger image