Lincoln Daily News publishes letters to the editor as they are received.
The letters are not edited in content and do not necessarily reflect
the views of Lincoln Daily News.
Lincoln Daily News requests that writers responding to controversial issues address the issue and refrain from personal attacks. Thank you!
.
You may also send your letters by e-mail to ldneditor@lincolndailynews.com
or by U.S. postal mail:
Letters to the Editor
Lincoln Daily News
601 Keokuk St.
Lincoln, IL 62656
Letters must include the writer's name, telephone number, and postal address or e-mail address (we will not publish address or phone number information). Lincoln Daily News reserves the right to edit letters to reduce their size or to correct obvious errors. Lincoln Daily News reserves the right to reject any letter for any reason. Lincoln Daily News will publish as many acceptable letters as space allows.
To the editor:

The sixth-grade students at Lincoln Junior High School just completed a mission at the Challenger Learning Center in Bloomington, Ill. This was a simulated mission where students worked in mission control and in the space station as astronauts to "Rendezvous with a Comet." This field trip was an excellent hands-on learning experience that met many of our math, science and technology state goals.

In order to be prepared for the field trip, the students spent a number of days practicing mission-related activities such as problem solving, following directions, communication skills and cooperation.

This was a once-in-a-lifetime opportunity for many of the students and would not have been possible without the support of local businesses and community members. We would like to sincerely thank Heritage In Flight Museum, Lincoln D.A.R.E., Crystal Alley, CEFCU, Joe Ryan, Coy's Car Corner, Fricke-Calvert-Schrader Funeral Home, Graue Chevrolet, Guzzardo's Italian Villa, Doug DeMay, Keystone Risk Management, Chris Coyne, Xamis, State Bank, Kathy Litherland, Maurice and Karen Irwin, Lincoln Iron and Metal, and Kiwanis.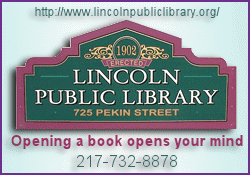 We would like to commend all of the people who supported the youth at Lincoln Junior High School. The students thoroughly enjoyed the field trip and will continue to use the skills learned from the experience. Thanks for your support.
Thanks again,
Laura Irwin and the sixth-grade faculty and students
(Posted March 23, 2006)
Click here to send a note to the editor about this letter.
Related postings