Calendar listings for this page are based on announcements provided to Lincoln Daily News.
Please let us know about upcoming events. Thank you.
March | April | May | June | July | August | September | October
March 2006
---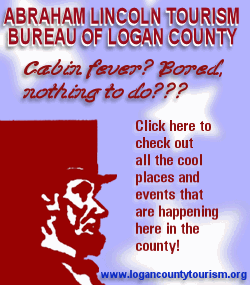 Tuesday, March 28
SPONSOR: Central Illinois Community Blood Center
WHO: Public
WHAT: Blood drive
[See article.]
WHERE: Lincoln Christian College, 100 Campus View Drive
WHEN: 10:30 am-3:30 pm
WHO: Emergency Management Agency storm spotters and public
WHAT: Storm spotter training
[See article.]
WHERE: Lincoln Community High School cafeteria
WHEN: 6:30-9:30 pm
Thursday, March 30
SPONSOR: University of Illinois Extension in Logan County
WHO: Food pantry clients
WHAT: Free class
[See article.]
WHERE: First United Methodist Church, 302 Broadway
WHEN: 1:30-2 pm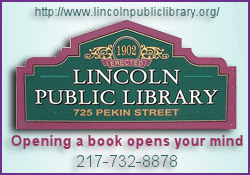 Friday, March 31
SPONSORS: Lincoln Park District and Logan County Health Department
WHO: Fifth-graders
WHAT: Children's Health Fair
Watch for more information in Lincoln Daily News.
WHERE: 1400 Primm Road
WHEN: 8:45 am-2:30 pm
SPONSOR: Singles Dancing in Lincoln's Footsteps
WHO: Singles, 40 and over, and married couples welcome
WHAT: Ballroom, Western and eclectic dancing
Contact Dennis Guernsey, (217) 787-7338
WHERE: Lincoln American Legion, 1740 Fifth St.
WHEN: 8 pm to midnight
March | April | May | June | July | August | September | October
Another online community calendar is posted by the Abraham Lincoln Tourism Bureau of Logan County.