Lincoln Daily News publishes letters to the editor as they are received.
The letters are not edited in content and do not necessarily reflect
the views of Lincoln Daily News.
Lincoln Daily News requests that writers responding to controversial issues address the issue and refrain from personal attacks. Thank you!
.
You may also send your letters by e-mail to ldneditor@lincolndailynews.com
or by U.S. postal mail:
Letters to the Editor
Lincoln Daily News
601 Keokuk St.
Lincoln, IL 62656
Letters must include the writer's name, telephone number, and postal address or e-mail address (we will not publish address or phone number information). Lincoln Daily News reserves the right to edit letters to reduce their size or to correct obvious errors. Lincoln Daily News reserves the right to reject any letter for any reason. Lincoln Daily News will publish as many acceptable letters as space allows.
Dear Lincolnites at heart:

Last week on spring break I was in Lincoln, whose history holds an endless fascination for me and where I almost always seem to find new material to mine. When I am there, I am torn between wanting to visit relatives and friends, and wanting to research. There does not seem to be nearly enough time for either.

Recently a lawyer from Springfield, Ill., with a special interest in history e-mailed me to say he read material on my Lincoln site about William Maxwell's African-American figure named Dr. Billie Dyer and wondered if I had more information. I responded that I didn't, but when I was in Lincoln, I turned up more info in the public library, thanks to the help of director Richard Sumrall (a treasure for Lincoln). Also, I couldn't resist some "fieldwork" in Old Union Cemetery.

I have added some of my findings at the link below: http://www.geocities.com/
findinglincolnillinois/foleyhouse.html#dyers.

[to top of second column in this letter]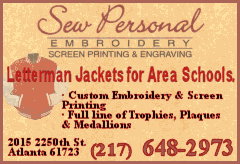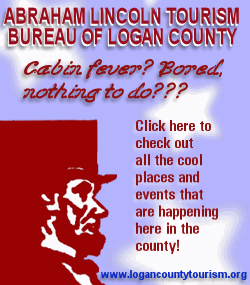 As spare time allows, I will pursue the history of blacks in Lincoln -- a much-neglected subject -- and have leads on two or three new primary sources, including a potentially great source of rare photos. As usual, it will take a while; but if I live long enough, I hope to publish the results.
My article on Maxwell's writings based on Lincoln is in press -- more later.
Take care till a bit later and best wishes,
Leigh Henson
P.S. As always, please forward this to someone who may be interested.
(Posted March 28, 2006)