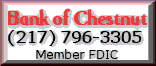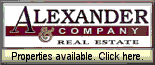 Church Directory
---
---

---
---
---
---
Contact us
---
LDN is best viewed with
IE 6 or Firefox 1.x.

---
LDN awards
Local:
Dec. 16, 2001
Local Emergency Planning Committee
Jan. 25, 2001
Logan County Healthy Communities Partnership
State:
Oct. 1, 2001
Illinois Public Health Association
posted daily OVER THE NOON HOUR (CDT)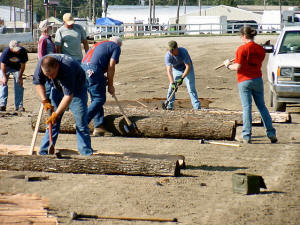 Lincoln offered oodles of entertainment this past weekend. The 38th annual Railsplitter, the Elks Disabled Children's Fundraiser and Robert's Sysco open house drew crowds. Officials eye work of amateur railsplitting contestants Saturday afternoon at the Logan County Fairgrounds.
[picture by Jan Youngquist] click on picture for larger image

Submit a classified ad online [Lowest cost for advertising in the county!]
\Community

The Sports Page


During the Abraham Lincoln National Railsplitting Contest and Crafts Festival:

Bob Church, surveyor, returns

Old-time 'base ball' to be featured

Logan County Genealogical and Historical Society to host cemetery walk

Logan Railsplitting Association and Lincoln Sportsmen's Club to host trap shoot

Bethel School to host open house

Free bluegrass concert

Mystery Ink Productions to perform 'Mr. Lincoln and the Lost Client'

State public health director issues warning about food-borne illness linked to fresh spinach consumption
No confirmed Illinois cases of E. coli from consumption of bagged fresh spinach

West Nile virus claims another life

August was slightly warmer and wetter than normal

Gov. Blagojevich and Lt. Gov. Quinn urge U.S. Department of Veterans Affairs to expand health services for veterans
Letter responds to report highlighting the federal government's inadequate assessment of returning veterans' health needs

FEMA outlines conditions for increasing rental assistance after disasters

Court news

Marriages

Dissolutions

Grandparents Raising Grandchildren celebrates 10th anniversary

Home Country: Mountain music and children mix

Mayfield's Mutterings: Mutterings on the move
By Jeff Mayfield