Heavy equipment has been bustling around the northwest end of the Logan County Airport this week as the area is prepared for the first of several drainage projects. Hanson Engineering out of Springfield is overseeing the $600,000 tiling project that is well under way. The project has a 56-day window to complete. Rain could slow progress. A light haze Wednesday reduced visibility in the area to seven miles. Rain showers are possible later.
[picture by Jan Youngquist] click on picture for larger image
12 weekly contests, still 10 more chances to win.
Enter the LDN Gas Card contest to win a $50 gas card.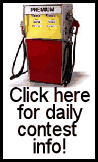 4th Week- New Contest!
Click here for Week 4 entry form
Do you like the contest, dislike the contest? Too easy, too hard? No time to play? Please give us feedback. Click here.
This contest brought to you by Lincoln Daily News & these fine sponsors:
Questions? Need a hint? Email us at puzzle@lincolndailynews.com