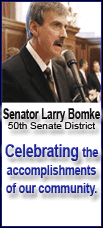 Hake, who could be best described as quietly outgoing, not only had to get accustomed to her staff, the chamber board, the hundreds of community members and leaders that she met early on, but there was also a great deal of activity her first few months on the job.

"In June we had seven ribbon-cuts," Hake said. Plus, there wasn't much time before the annual art fair and balloon fest would take place, and she saw how encompassing and detailed the preparation is for the chamber's signature event. In fact, Hake said that next year's event is already being organized.

When asked about the long hours, especially the nights with so many meetings to attend, Hake didn't complain for a moment. "Yesterday I had three late meetings," she said, although one was school-related. "Cooper (her 10-year-old son) has known me for 10 years, and he knows this is part of my job, but it is taking some getting used to by Jeff, my fiance."

Andi said that although the family schedule has changed, both Jeff and Cooper are very supportive of her and her new job. As if she didn't have enough to do already, Hake has joined the Lincoln chapter of Rotary International.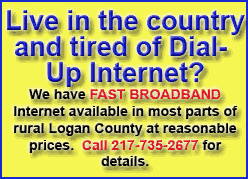 Although there are always many challenges facing the chamber director, Hake considers her most important job that of retention and expansion of chamber membership. She said it her first week in office, and she is still convinced of her most important function: "It's important that we have reasons for businesses to join the chamber and to stay. We need to create benefits for members that makes them want to stay members and for new businesses to want to join."
One of the avenues Hake believes the chamber can help members with is a total revamping of the Lincoln/Logan Chamber of Commerce online site. "A lot of small businesses don't have Web sites. We will offer to create a page for them in our business directory so that they do have a presence on the Web," she said.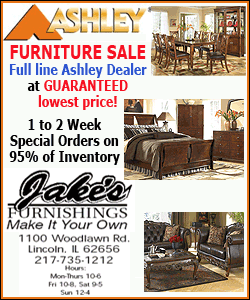 In these nationally tough economic times, Andi understands that some of that distress can filter down even into central Illinois communities. "Businesses right now have to keep an open mind, be more efficient and stress service in these difficult times," Hake acknowledged.
Hake says she also is learning valuable skills while on the fly. "I have learned to listen to everyone and get all the information I need before I make a decision," she said.
The one thing that made Hake smile the most was when she was asked about her interaction with the community. "The support has been overwhelming," she said. "This is such a great town. The people and businesses are so giving of their time and their money to help all the great causes out, it's amazing."
Although Andi's event schedule has slowed at the chamber, she still has a full workload. There is next year's budget that needs to be ready by the October board meeting. The safe bet is that it will be ready regardless of what else happens that requires Andi's personal interest and time.
[By MIKE FAK]
Previous related articles