Logan County in 1 of 2 regions identified as most at risk for water shortages and conflicts
Regional water supply committee delivers results of new 3-year study
Part 1: Where are the water supplies and how much is being consumed today?
Pictured from left: Jay Henry, Mount Zion; Melvin Pleines, Minier; Jeff Smith, Easton; Robbie Berg, Urbana; Morris Bell; Chandlerville; and Ed Mehnert, Champaign.

Send a link to a friend
(Originally posted Monday)
[August 25, 2009] Water is essential for life. For centuries, where water has been available is where people have settled and communities have grown up. Yet water, like other natural resources, is vulnerable to overuse as populations grow, to contamination or misuse, and also is subject to climate changes, such as extensive drought conditions. Clearly, this critical, limited resource must be monitored, protected and managed.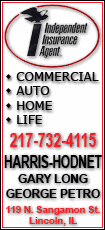 The Illinois economy, which is driven by agriculture and supported by industry and commerce, is subject to water levels and availability. A significant three-year drought in the late 1980s and several temporary drought conditions since then have demonstrated Illinois' need and vulnerability to this resource. Recent business interests in developing ethanol plants, which combine agriculture and industry, called for specific studies on local water resources because of the high volume of water used in the production process.

And of course, communities rely on clean drinking water.

In January of 2006, Illinois Gov. Rod Blagojevich issued Executive Order 2006-01 charging the Office of Water Resources of the Illinois, Department of Natural Resources and the Illinois State Water Survey with the task of developing a comprehensive program for state and regional water supply planning and management.
The agencies determined to begin action in the regions that are most at risk for water shortages and conflicts. The top two are regions identified as supplied by the Mahomet Aquifer and the Northeastern Illinois Deep Aquifer. Logan County and the counties of Cass, Champaign, DeWitt, Ford, Iroquois, Macon, Mason, McLean, Menard, Piatt, Sangamon, Tazewell, Vermillion and Woodford are all served by the Mahomet and now make up the East Central Illinois Region.
Twelve members were chosen to serve on the East Central Illinois Regional Water Supply Planning Committee and represent specific interest areas as follows: agriculture, small business, public, water authorities, water utilities, municipal environmental, county, rural water districts, industry, electric generating utilities, and soil and water conservation districts. According to information from the committee, the members are also "geographically balanced by region" as follows: west -- Cass, Logan Mason, Menard, Sangamon and Tazewell counties; central -- DeWitt, Macon, McLean, Piatt and Woodford counties; and east -- Champaign, Ford, Iroquois, and Vermilion counties.
The East Central Illinois Region is now one of two pilot regions in the state. The second region is in the Chicago area, and soon a third will begin work in southern Illinois. Eventually, the entire state will be divided into nine such regions
What is the future of water for Lincoln and Logan County?
Last week members of the East Central Illinois Regional Water Supply Planning Committee invited local officials to a public meeting to share the information from the findings from a three-year water supply study. The study examined the current rate of growth in business, industry and population; looked at the daily water consumption in the region; considered all water resources; and then projected future needs.
Various members of the committee presented scientific data in laymen's terms and then fielded questions about the future of our water supply and how it will affect Lincoln and Logan County. Committee member Jay Henry of Mount Zion served as the moderator for the meeting. He began with a 20-minute PowerPoint presentation on the findings of the committee and the recommendations the committee has for future preservation of water in the region.
Current conditions
Henry began by offering statistics on the current water consumption in the region.
In 2005 the daily consumption of water in the 15-county region was 320 million gallons per day. Henry said that to help visualize that amount of water, consider its measurement in acre-feet.
An acre-foot is the measurement of water 1 foot deep over a 1-acre plot, which comes to approximately 325,000 gallons.
Saying that the average football field is about 1 acre, the water on a football field would have to stand 3-feet deep to approximate 1 million gallons of water.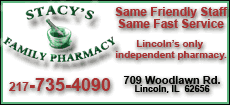 Here is an illustration:
Try to imagine 320 of those football fields, each with 3 feet of water standing on them, stacked all on top of one another. That height would exceed the St. Louis Gateway Arch by 330 feet and would measure above or equal to many of the skyscraper structures in the city of Chicago. And that is only one day's consumption.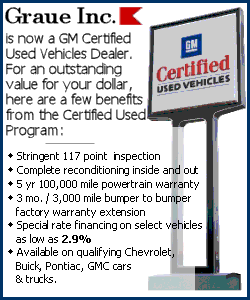 Now, picture this: By the year 2050 at the current rate of growth in business, industry and population, that daily consumption in the region will reach 600 million gallons per day.
Henry postulated and answered, "So, where is this water coming from, and how much of it do we have?" Within the region, there are two primary sources of mass quantities of water: the Mahomet Aquifer and the Sangamon River Watershed.
The Mahomet Aquifer is a body of water deep underground, extending east to west, that affects all of this the region's counties with the exception of Cass, Menard and Sangamon. The Sangamon River Watershed affects those three counties and overlaps the aquifer in Champaign, DeWitt, Ford, Logan, Macon, Mason, McLean, Piatt and Tazewell counties.
According to Henry, in Logan County specifically there are sufficient supplies in the aquifer to sustain the community at its current rate of growth.
However, he, along with Edward Mehnert of the University of Illinois Institute of Natural Resource Sustainability, explained that there are areas of Logan County that have more water available than others, and that when considering growth in business and industry, city and county planners need to know and understand where the water is before they develop an area.
Mehnert gave an example, saying that in the Lincoln area the aquifer is more saturated on the north side of town than it is on the south. Therefore as the city's economic development partnership works to bring new industry in, they might want to promote an area on the north side of town if the company will need their own wells and be using large volumes of water.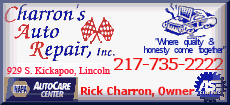 He went on to say that every city and or county planner in the water supply planning region should be concerned about this, and they are encouraged to contact the committee for assistance in identifying proper locations for development based on water needs.
In Part 2, Lincoln Daily News tells you where in this region the water supply volume would first become an issue, and why.
[By NILA SMITH]
Recommended links:
East Central Illinois Regional Water Supply Planning Committee:
http://www.rwspc.org/
Mahomet Aquifer Consortium:
http://www.mahometaquiferconsortium.org/
Illinois State Water Survey:
http://www.isws.illinois.edu/
Illinois State Geological Survey:
http://www.isgs.illinois.edu/
Association of Illinois Soil and Water Conservation Districts:
http://www.aiswcd.org/
Illinois Department of Natural Resources:
http://www.dnr.state.il.us/
Illinois Environmental Protection Agency:
http://www.epa.state.il.us/
Illinois Pollution Control Board:
http://www.ipcb.state.il.us/
Illinois Department of Agriculture:
http://agr.state.il.us/
___
Past related news and information in Lincoln Daily News