The seasonal flu vaccine is being offered to anyone 3 years and older who wants to protect themselves from the seasonal flu.

People who should get a seasonal flu vaccination each year:
Children from age 6 months up to their 19th birthday.

Pregnant women.

People 50 years of age and older.

People of any age with certain chronic medical conditions.

People who live in nursing homes and other long-term care facilities.

People who live with or care for those at high risk for complications from flu, including:

Health care workers.

Household contacts of people at high risk for complications from the flu.

Household contacts and caregivers of children less than 5 years of age, with particular emphasis on vaccinating contacts of children less than 6 months of age (these children are at higher risk of flu-related complications).
The 2009 H1N1 flu vaccine continues to be available only to:
Pregnant women with a doctor's order.

People who live with or care for children younger than 6 months of age.

Health care and emergency medical services personnel with direct patient contact.

Children 6 months through 24 years of age.

Individuals 25 through 64 years old with an underlying health condition, excluding hypertension.
The seasonal and H1N1 flu vaccine may be obtained during walk-in clinic hours Monday through Friday, 7:30 a.m. until 4 p.m. Both the seasonal and H1N1 vaccines will also be available on the HOPE Mobile during its regularly scheduled stops.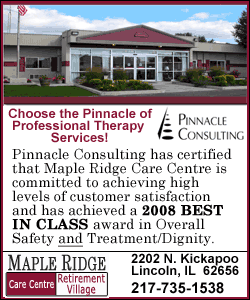 To help reduce the spread of influenza, remember the three "C's":

your hands frequently with warm soap and water or an alcohol-based hand gel.

COVER

your cough or sneeze with a tissue or use your elbow, not your hands.

CONTAIN

your germs by staying home when sick until your fever is gone without the use of fever-reducing medications.

For more information, visit www.flu.gov and www.lcdph.org or call the Logan County Department of Public Health at 217-735-2317.

[Text from file received from the Logan County Department of Public Health]

The weekly "flu facts" are sponsored by the Logan County Department of Public Health and the Pandemic Influenza Community Coalition.

Previous postings