Lincoln Daily News
welcomes letters of appreciation, information and opinion on matters pertaining to the community.
As a community we need to be able to talk openly about matters that affect the quality of our lives. The most effective and least offensive manner to get your point across is to stick to the issue and refrain from commenting on another person's opinion. Letters that deviate from focusing on the issue may be rejected or edited and marked as such.
.
You may also send your letters by e-mail to ldneditor@lincolndailynews.com
or by U.S. postal mail:
Letters to the Editor
Lincoln Daily News
601 Keokuk St.
Lincoln, IL 62656
Letters must include the writer's name, telephone number, and postal address or e-mail address (we will not publish address or phone number information). Lincoln Daily News reserves the right to edit letters to reduce their size or to correct obvious errors. Lincoln Daily News reserves the right to reject any letter for any reason. Lincoln Daily News will publish as many acceptable letters as space allows.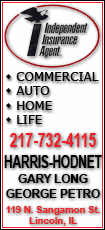 To the editor:

I have submitted a vote online toward the decision for materials to replace the Civil War monument, and submitted a note to justify a vote from a nonresident of Lincoln and Logan County. I now offer that note as a letter to the editor, to convey my feelings to my friends and former neighbors.

___

I am a resident of Brantley County, Georgia.

I do, however, hold a great deal of love and affection for Lincoln and Logan County.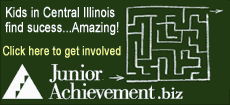 For the following reasons I feel not only eligible, but obliged and compelled to vote on anything of historical importance to my hometown: born in the Deaconess Hospital of Lincoln; schooled in Lincoln; having worked and earned a living in Lincoln; past president (times two) of the Lincoln Lions Club; current and longtime member of Lincoln Lodge 210; charter member of the Lincoln Railsplitting Association; close personal friend of Charlie Ott (alias Abraham Lincoln) and my gone but certainly not forgotten brother and constant running mate Lester Odell Sheridan.
[to top of second column in this letter]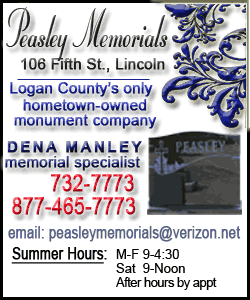 I have voted for stone, to maintain the original look and feel of the monument, and to preserve the intent of our forefathers when the monument was originally erected. I am sure they had the options of stone or bronze, and they chose stone. Their choice was more than likely influenced by economics, just as may be residents now facing the restoration.
If my memory serves me well, the names of Civil War veterans were engraved into the stone, and were barely legible. If that is correct, I might suggest bronze plaques bearing the names of those honored heroes. I am not available to personally suggest this to the governing committee, but would very much appreciate having it passed along.
Sincerely,
Thomas W. Charron
Native son
Waynesville, Ga.
[Posted October 14, 2009]
Click here to send a note to the editor about this letter.
Related article