Have you thought about running for mayor?
There was no awakening moment when Keith Snyder said to himself, I'm going to run for mayor. In fact, it was quite the opposite.
He was working for Lincoln Christian University, and seeking the mayoral position had not entered his mind. He explained: "I was approached by a group of people and they said, 'Have you ever thought about running for mayor?' And I was quite honest," he laughs, "when I said NOPE, I never have."
They said, "Well, we think you ought to consider it; you have some abilities that the city would benefit from."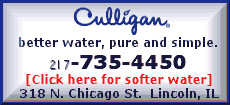 The mayor went on to say: "I spent several months thinking about it, and by late summer I decided maybe I'd give it a go."
Indeed, Snyder does have education and experience that has and will continue to be beneficial in the mayoral position.
He has a bachelor's degree in political science and a master's in business administration, and his first career was 17 years with the Illinois Legislature.
After graduating from college he applied for a graduate internship, which was to last one year, but at the end of that term he was asked to stay and did so for another 16 years.
He was appointed by Gov. Jim Edgar to be a member of the Educational Labor Relations Board and was also an ethics officer for the state Senate for another five to six years.
Snyder's departure from his state position was at the hands of former Gov. Blagojevich. He explained: "I served six years on the labor relations board and was eligible for reappointment, but the governor by that time was Blagojevich and he felt that someone else could do my job better, so he made a new appointment."
After the state position, Snyder went to work in Bloomington in the corporate offices of State Farm Insurance, in their procurement department.
"I was a contract negotiator, dealing, for example, with people who wanted to offer software packages to State Farm. Rather than hire attorneys to negotiate the contracts, the company hired their own procurement staff to do the negotiations. Then the attorneys reviewed the contracts before they were approved," he explained.
Snyder was with State Farm for three years, and then in January of 2008 he got the opportunity to work at what is now Lincoln Christian University as an associate vice president of development.
In that position, Snyder's primary responsibility is to deal with fundraising and donations for the university. He works with individual donors, church donors and conducting donor appreciation events as well as fundraisers. He says that the bottom-line goal is to try to bring in the money.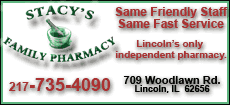 Snyder enjoys his position with the university and hopes that he will have a long-term relationship with the school. He also said that they have been very gracious about working with him on the time he needs to devote to the mayoral position.
Before he was even elected, an opportunity presented itself
Snyder announced last September that he would run for the mayoral position, and by October, an opportunity presented itself that he knew would be good for the city if it could be achieved. So even before he was elected, he started laying the groundwork for what would be the city's first big project after the May change of command.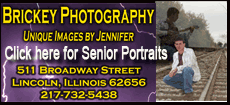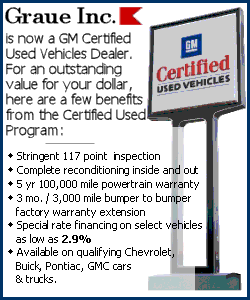 Snyder explained that State Farm helped to underwrite a community study that was done in Bloomington. One day he got an e-mail from a friend at the company saying, "I know that you're interested in renewing some parts of Lincoln, so this might be something you want to come up and sit in on."
Snyder said he drove to Bloomington and sat in on the meeting about a redevelopment plan for the city's west side.
Scott Goldstein, who is a consultant for Teska, was there for the meeting, and afterward Snyder made a point of meeting him. "I went up to him and introduced myself and said, 'Hey, I'm running for mayor of Lincoln and am intrigued by the plans you guys have come up with, and I'd like to keep in contact with you,'" Snyder said.
The two did stay in touch and over the months talked about fiber optic broadband technology and bringing it into Lincoln.
Later on there came a morning when Snyder and some others were having breakfast together, discussing a comprehensive plan for Lincoln. Goldstein was working in the Peoria area and was invited to join them for breakfast. In the course of the conversation, Goldstein told the others that there was approximately $4.7 billion in the federal stimulus plan earmarked for broadband technology.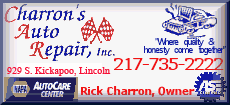 Snyder recounted: "As we got to talking about it more, we thought this could really have some good possibilities for Lincoln, so it developed more and we got Alderman (David) Wilmert involved in it (as a city council member)."
Under the Lincoln city governance, the mayor cannot actually introduce and pursue a project. If he has something that he wants to see happen, he brings it to the attention of an alderman, preferably one who chairs a related committee. Then the mayor can work with the committee as needed.
Because there was no real technology committee, Wilmert was chosen and the sanitation committee he currently heads up was modified to include technology.
Speaking about the fiber optic grant, the mayor added that he had just learned that 2,200 applications in all were made for a grant from the federal Broadband Technology Opportunities Program. He's been told by Goldstein that sometime in October the city will find out if they have made what he referred to as the second cut.
The mayor also said that being one of only 10 municipalities in Illinois to win the state-level grant should work in the city's favor.
[By NILA SMITH]
Past related article
Previous articles in series