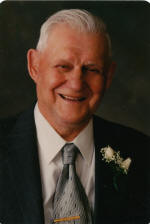 Louis Kashock

Send a link to a friend
[June 04, 2010] LINCOLN -- Louis Kashock, 92, of Lincoln, died Tuesday, June 1, 2010, at St. Clara's Manor.
His funeral will be at 1 p.m. Saturday at Holland Barry & Bennett Funeral Home in Lincoln, with Ryan Edgecombe officiating. Visitation will be from noon to 1 p.m. at the funeral home.
Burial will follow in New Union Cemetery.
Mr. Kashock was employed as a railroad worker and by Cutler Hammer for several years.
He was born April 12, 1918. His parents were Frank and Anna Valek Kashock. He married Goldie Sapp on Jan. 11, 1941, in Burton View.
He is survived by his wife; his son, James (and Melda) Kashock of South Pekin; his daughter, Mary (and Rick) Dermody of Everett, Wash.; five grandchildren, Michelle (and Chad) Sakaguchi of Bothell, Wash., Shannon Dermody (and Daniel Taugher) of Staten Island, N.Y., Melissa Dermody of Edmonds, Wash., Kimberly (and Perry) Watson of Pekin and Deborah (and Scott) Schmick of Manito; great-grandchildren Nathan Sakaguchi, Shayla Watson, Travis Watson, Ashley Schmick and step-great-grandson Billy Merry.
He was preceded in death by his parents; two brothers, William "Bill" and Frank; and four sisters, Frances, Rose, Evelyn and Lillian.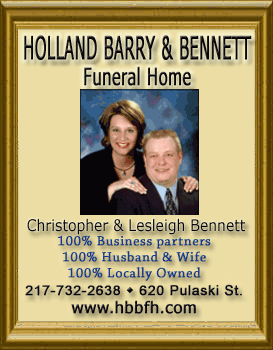 He was a member of Lincoln Christian Church.
Memorial donations may be made to Memorial Home Hospice and will be accepted at the funeral home.
Click here to send a note of condolence to the Kashock family.