Park district notes
From Roy Logan, program coordinator

Send a link to a friend
[March 22, 2011] It's time to register with the Lincoln Park District for boys baseball and girls softball. It is important to register now so the correct number of teams can be set up and to allow time to schedule with teams that are out of town. Please register by Monday, April 4. Skills evaluations for most of the boys will be Saturday, April 16. A meeting of coaches is scheduled for Tuesday, April 19, at 6:30 p.m. at the park district headquarters.
Men and women's softball registration is also going on now. Each league will be limited to the first nine teams that have paid sponsors' and players' fees. Approximately 10 single games, including tournament play, will be offered. Men will play on Monday evenings at 6:30 and 7:30. The women's league will play on Thursday evenings. All games are at the park district fields.

The 25th annual Children's Health Fair will be at the park district's SportsCenter on Friday, April 1, from 8:45 a.m. to 12:15 p.m. Fifth-graders from Logan County schools will attend the event as a field trip. Home-schooled fifth-graders are invited as well. Click here for more information.

The 26th annual Community Health Fair will be Saturday, April 2, from 9 a.m. to 2 p.m. at the SportsCenter. There will be many exhibitors and a number of screenings. Most of the screenings are free, but a few have a nominal fee. Click here for more information.

Reminder: The park district will host the annual Easter egg hunt on Saturday, April 23. They will put out 10,000 eggs for the "hunters." With sunshine, the hunt will be on the driving range. In case of rain, the indoor courts will be used. More information will be available closer to the event. Maple Ridge Care Centre, the Lincoln Kiwanis and CITV 5 sponsor this free event for the community.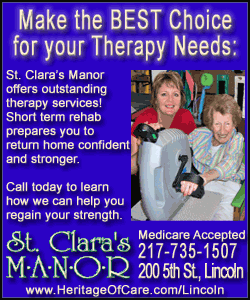 Watch this online news source because the Lincoln Park District Summer Brochure will be out soon. We're planning a great summer for our young people as well as our "young at heart" seniors.
[Text from file received from Roy Logan, Lincoln Park District]