---
Free
---
---
---
---
---
Mooch
Mooch disappeared Saturday night around 11:00 p.m. in the vicinity of Water Street and Lincoln Avenue. If found, please call 217-735-1718.

Send a link to a friend
---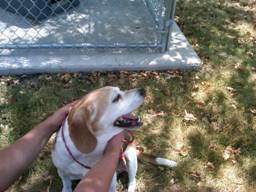 Sweet, healthy male beagle found running across Woodlawn Road around O'Reilly Auto Parts Monday afternoon. If you have any information please call Logan County Animal Control 217-735-3232.

Send a link to a friend
---
This is Sammy
she has been gone
since July 4th
when the first fireworks
went off
in Middletown
If you see
Sammy
Please call
445-0069
or
671-8678


Send a link to a friend
---
BLACK LAB PUPPY
Found this morning, Friday, July 6, 2012 an approximately two month old BLACK LAB PUPPY.

Found at the Ag-Land FS along Route 54 in Mt. Pulaski.

Please call 217-735-2258 or HSLC Shelter at 217.737.4042 with any information.

Send a link to a friend
---
---
---