CLASSIFIED ADS
---
PUBLISHER'S NOTICE
Federal and state laws prohibit employment advertisements that express a discriminatory preference on the basis of race, age, sex, color, national origin, religion, handicap, or marital status.
Lincoln Daily News will not knowingly accept advertising for employment which is in violation of these laws. Our readers are informed that employment offerings advertised are available on an equal opportunity basis.
---
Advertising Sales Representatives
Do you enjoy meeting people, developing marketing programs, or get a kick out of helping others achieve their goals? We are looking for sales people to call on businesses in and around Logan County to advertise online and in print.
Must enjoy working with people, have good communication skills, able to work in a fast paced environment with deadlines, be energetic, highly organized and dependable.
Commission Driven. Flexible schedule. Experience not necessary.
Please submit a resume to:

Send a link to a friend
---

Caring and compassion are the rule, not the exception at Vonderlieth Living Center!
With many years of experience in the health care industry, we have been recognized as one of the leaders of quality care nursing services. To stay the leader, we need people like you – professional nurse aides dedicated to delivering quality care to our long term care residents.
We currently have full and part time openings for the second shift.
We offer you a competitive wage, great benefit package and a wonderful staff of caregivers to work with, plus much more!
Please apply online or send resume to:
Vonderlieth Living Center
Attn: Jo Hilliard
1120 N. Topper Drive
Mt. Pulaski, IL 62548
www.heritageofcare.com

Send a link to a friend
---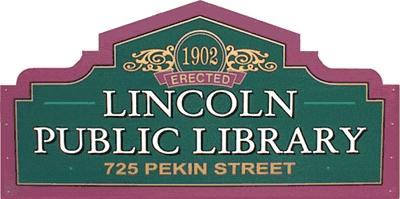 Permanent Employment
Part Time Position
Lincoln Public Library
Youth Services Department
$8.25 / hour starting
This postition is a flexible schedule that requires some days, evenings, and Saturdays. Please call for the exact schedule.
Basic knowledge of and ability to use computers require. The ability to interact with children and parents is a necessity. During children's events staff may be required to work additional hours.
Early childhood or group storytime skills a necessity.

Contact Louella Moreland or Richard Sumrall
217-732-5732
Applications are available at
725 Pekin Street, Lincoln
Applications will be accepted through July 9

EOE

Send a link to a friend
---
Slackers Bar and Grill
Now Accepting Applications
Fulltime Kitchen Cook/Manager
Please pick up applications at:
Slackers Bar and Grill,
103 W Lincoln St.

Send a link to a friend
---

Full-time CDL Driver/ Yard Worker
Able to run a boom truck as well as work in the yard loading customers, hours range from 7am to 5pm., benefit package
A
pply in person or send resume to:
231 S. Sangamon St
Lincoln, IL 62656

Send a link to a friend
---
Wibben Detasseling
Now hiring!
217-376-3230
http://www.wibbendetasseling.com
Starting pay: $9.00 / hour
Attendance bonus: $10.00 / Hour
Crew Bosses: Additional $1.00 / Hour
Call, email, or visit our website
for sign up dates and more info.

Send a link to a friend
---
Writers wanted
The Lincoln Daily News is seeking writers for local stories in the Logan County area. Experience not necessary but computer and writing skills a must. Pay is per article. Must have own transportation. Story ideas are provided but we are always open to suggestions.
If you have always wanted to write for a publication and enjoy writing positive stories about people places and things; Please send a brief history of your writing experience and or a small sample of your work to jyldn@lincolndailynews.com

Send a link to a friend
---
---