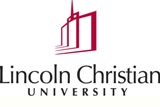 Lincoln Christian University is seeking a Facilities Management Tech to assist in the general maintenance and upkeep of campus buildings and grounds.
Candidates should be a high school graduate with a minimum of three years maintenance related work history. Basic computer skills are preferred, ability to operate basic heavy equipment (front-end loader, tractors, snow removal equipment), HVAC/Refrigeration experience highly preferred.
Candidate must have the ability to model a servant-leader, Christ-like attitude and behavior toward students and fellow employees.
Pay rate for this full-time position is $10.75-$12.50 per hour depending upon qualifications and experience.
To apply for this position please email your cover letter, resume, and contact information for three references to:
or fax to HR Coordinator at 217-732-5914.
The final candidate should be prepared to sign a statement of their support of LCU's faith, values, and mission.


Send a link to a friend