Send a link to a friend
September 2012
---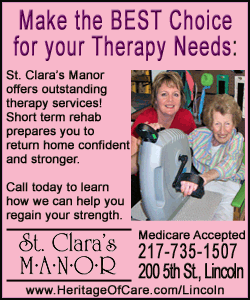 Thursday, Sept. 13
"Coffee with the Superintendent"
SPONSOR: Lincoln Community High School District 404
WHO: Parents and community members
DETAILS: (See article.)
WHERE: Owl's Roost, 427 Pulaski St.
WHEN: 9 am
Farmers market coupons available
SPONSOR: Area Agency on Aging for Lincolnland
WHO: People 60 years of age and older who meet income guidelines
DETAILS: (See article.)
WHERE: Oasis Senior Center, 501 Pulaski St.
WHEN: 9 am-noon
Art and craft classes
SPONSOR: Lincoln Public Library Youth Services Department
WHO: Children 8-12 years old
DETAILS: Register starting Monday the week of each class. Classes continue on Thursdays through Oct. 25. Registration necessary for accurate planning. Call 732-5732.
WHERE: Lincoln Public Library Annex
WHEN: 3:30 pm
Meatloaf dinner
SPONSOR: Veterans of Foreign Wars Post 1756 Ladies Auxiliary
WHO: Public welcome
DETAILS: Handicapped-accessible ramp on east side of the building. Carryouts available; call 217-737-9590.
WHERE: Freedom Hall Event Center, 915 Fifth St.
WHEN: 4-6:30 pm
Friday, Sept. 14
LCHS Class of 1957 reunion mixer
WHO: LCHS Classes of 1956, 1957, 1958
WHERE: Knights of Columbus
WHEN: 6:30 pm
Civil War Ball with Abraham Lincoln National Railsplitting Festival
SPONSOR: Logan Railsplitting Association
WHO: Public
DETAILS: http://www.railsplitting.com/
WHERE: Lincoln Park District Rec Center
WHEN: 7-10 pm
Saturday, Sept. 15
Lincoln Farmer's Market
SPONSOR: Lincoln Farmer's Market
WHO: Public
DETAILS: Local vendors with locally grown produce, baked goods, rag rugs, homemade dog biscuits, hand-sewn items, wood signs, jams and jellies, plants.
WHERE: Scully Park, 316 S. Kickapoo St.
WHEN: 7 am-noon
Farmers' Market
SPONSOR: Farmers' Market
WHO: Public
DETAILS: Fresh vegetables, fruits, herbs, plants, baked goods and crafts
WHERE: Latham Park
WHEN: 8 am-noon
Logan County Family Preparedness Day
HOSTS: Logan County Emergency Management Agency, Logan County Department of Public Health
DETAILS: (See article.) (See publicity.)
WHERE: Scully Park
WHEN: 9 am-1 pm
Marine Corps League Roadside Cafe
SPONSOR: Marine Corps League
WHO: Public welcome
DETAILS: Pork chop sandwiches, chips and soda
WHERE: 915 Fifth St.
WHEN: 10 am-2 pm
Rock 4 Life
SPONSOR: Lincoln Pregnancy Resource Center
WHO: Rockers
DETAILS: (See article.)
WHERE: Lincoln Christian University Laughlin Center
WHEN: 10 am-3 pm
Abraham Lincoln National Railsplitting Festival
SPONSOR: Logan Railsplitting Association
WHO: Public
DETAILS: http://www.railsplitting.com/
WHERE: Logan County Fairgrounds
WHEN: 10 am-4 pm
Art auction
SPONSOR: Lincoln Art Institute
WHO: Public
DETAILS: An art auction of works by 10 local artists. Two pieces per artist with the proceeds of one benefiting one of 10 charities and the proceeds of the other going to the artist. So, support a charity, help the artist and brighten a spot on your wall. Works can also be viewed at Lincoln Art Institute Facebook.
WHERE: 112 S. McLean
WHEN: Viewing 11:30 am-2:30 pm. Auction starts at 3 pm.
"Pleasant Sage"
WHO: Public
DETAILS: http://pleasantsageplay.blogspot.com/
(See article.) (See preview article.)
WHERE: Logan County Fairgrounds, Lincoln Stage
WHEN: 5 pm
Barn dance
SPONSOR: Logan Railsplitting Association
WHO: Public
DETAILS: Caller: Ozzie Pearl
WHERE: Logan County Fairgrounds
WHEN: 7 pm
Sunday, Sept. 16
Abraham Lincoln National Railsplitting Festival
SPONSOR: Logan Railsplitting Association
WHO: Public
DETAILS: http://www.railsplitting.com/
WHERE: Logan County Fairgrounds
WHEN: 10 am-4 pm
Monday, Sept. 17
Blood drive
SPONSOR: Central Illinois Community Blood Center
WHO: Public
DETAILS: For your convenience, call toll-free 1-866-GIVE-BLD (1-866-448-3253), ext. 158, to sign up, or schedule an appointment online at www.cicbc.org. Walk-ins are also welcome.
WHERE: Farmers Bank, 130 S. Washington, Mount Pulaski
WHEN: 9 am-noon
Ready Readers Story Time
SPONSOR: Lincoln Public Library Youth Services Department
WHO: Children 5-7 years old
DETAILS: Mondays, Sept. 17-Oct. 29. Registration necessary for accurate planning. Call 732-5732 or stop by the youth services desk to register.
WHERE: Lincoln Public Library Annex
WHEN: 3:30 pm
Pale Riders Dance Club
SPONSOR: Veterans of Foreign Wars Post 1756
WHO: Public welcome
DETAILS: Everyone is welcome to come on out and enjoy an evening of dancing. There is a small fee every six weeks.
WHERE: Freedom Hall Event Center, 915 Fifth St.
WHEN: 7-9 pm
Tuesday, Sept. 18
Little Listener Lapsit Story Time
SPONSOR: Lincoln Public Library Youth Services Department
WHO: Children 6 months - 2 years
DETAILS: Tuesdays and Wednesdays, Sept. 18-Oct. 31. Registration necessary for accurate planning. Space is limited in each class. Call 732-5732 or stop by the youth services desk to register.
WHERE: Lincoln Public Library Annex
WHEN: 10 am
Book Buddies Story Time
SPONSOR: Lincoln Public Library Youth Services Department
WHO: Children ages 3 and 4
DETAILS: Tuesdays and Wednesdays, Sept. 18-Oct. 31. Registration necessary for accurate planning. Call 732-5732 or stop by the youth services desk.
WHERE: Lincoln Public Library Annex
WHEN: 10 am
Grief Share
SPONSOR: Jefferson Street Christian Church
WHO: People struggling with pain of losing a loved one
DETAILS: Grief Share is a support group for people who are struggling to deal with the pain of losing a loved one. It involves prayer, opportunities to share your grief journey with others who are learning to cope, and a video curriculum of experts who share their knowledge as well as their own experiences with grief. No cost to attend. Fee for optional workbook. For more info, contact Greg Wooten at Lincoln Church of the Nazarene, 732-8362, or call Jefferson Street Christian Church, 732-9294.
WHERE: Jefferson Street Christian Church, Room 208
WHEN: 6:30-8 pm
(13-week series on Tuesday evenings through November)
Public meeting on downtown redevelopment, revitalization
WHO: Residents
DETAILS: (See article.)
WHERE: 110 N. Kickapoo St. (former Integrity Data building), downtown Lincoln
WHEN: 6:30 pm
Special meeting at Masonic Lodge
SPONSOR: Lincoln Masonic Lodge 210
WHO: All area Masons invited
DETAILS: (See announcement.)
WHERE: 2022 N. Kickapoo
WHEN: 6:30 pm
Wednesday, Sept. 19
Little Listener Lapsit Story Time
SPONSOR: Lincoln Public Library Youth Services Department
WHO: Children 6 months - 2 years
DETAILS: Tuesdays and Wednesdays, Sept. 18-Oct. 31. Registration necessary for accurate planning. Space is limited in each class. Call 732-5732 or stop by the youth services desk to register.
WHERE: Lincoln Public Library Annex
WHEN: 10 am
Book Buddies Story Time
SPONSOR: Lincoln Public Library Youth Services Department
WHO: Children ages 3 and 4
DETAILS: Tuesdays and Wednesdays, Sept. 18-Oct. 31. Registration necessary for accurate planning. Call 732-5732 or stop by the youth services desk.
WHERE: Lincoln Public Library Annex
WHEN: 10 am
Butterflies kids' sale
SPONSOR: Woven Together
WHO: Bargain hunters, those who care about justice, parents and grandparents
DETAILS: A consignment sale is an event where you can bring your children's outgrown or unused items and make money from selling them. We are accepting the following: fall and winter clothing: boys' sizes Infant through 20, girls' sizes Infant through junior, maternity, seasonal shoes, Halloween costumes; sports equipment; clean equipment -- beds, strollers, high chairs, furniture, etc.; toys with all working pieces; books; media: videos, games, CDs, DVDs Visit website for more information about the Consignor Presale, VIP tagging and how you can help the life of an orphan. http://butterfliesconsignment.blogspot.com/
WHERE: 1100 Woodlawn Road
WHEN: 10 am-6 pm
(Continues through end of week, with Saturday hours 8 am-1 pm)
Lincoln Farmer's Market
SPONSOR: Lincoln Farmer's Market
WHO: Public
DETAILS: Local vendors with locally grown produce, baked goods, rag rugs, homemade dog biscuits, hand-sewn items, wood signs, jams and jellies, plants.
WHERE: Scully Park, 316 S. Kickapoo St.
WHEN: 3-6 pm
Farmers' Market
SPONSOR: Farmers' Market
WHO: Public
DETAILS: Fresh vegetables, fruits, herbs, plants, baked goods and crafts
WHERE: Latham Park
WHEN: 3:30-6 pm
Thursday, Sept. 20
Butterflies kids' sale
SPONSOR: Woven Together
WHO: Bargain hunters, those who care about justice, parents and grandparents
DETAILS: A consignment sale is an event where you can bring your children's outgrown or unused items and make money from selling them. We are accepting the following: fall and winter clothing: boys' sizes Infant through 20, girls' sizes Infant through junior, maternity, seasonal shoes, Halloween costumes; sports equipment; clean equipment -- beds, strollers, high chairs, furniture, etc.; toys with all working pieces; books; media: videos, games, CDs, DVDs Visit website for more information about the Consignor Presale, VIP tagging and how you can help the life of an orphan. http://butterfliesconsignment.blogspot.com/
WHERE: 1100 Woodlawn Road
WHEN: 10 am-6 pm
(Continues through end of week, with Saturday hours 8 am-1 pm)
Blood drive
SPONSOR: Central Illinois Community Blood Center
WHO: Public
DETAILS: For your convenience, call toll-free 1-866-GIVE-BLD (1-866-448-3253), ext. 158, to sign up, or schedule an appointment online at www.cicbc.org. Walk-ins are also welcome.
WHERE: Elkhart Christian Church, 113 S. Gillett, Elkhart
WHEN: 3-6 pm
Art and craft classes
SPONSOR: Lincoln Public Library Youth Services Department
WHO: Children 8-12 years old
DETAILS: Register starting Monday the week of each class. Classes continue on Thursdays through Oct. 25. Registration necessary for accurate planning. Call 732-5732.
WHERE: Lincoln Public Library Annex
WHEN: 3:30 pm
Friday, Sept. 21
Butterflies kids' sale
SPONSOR: Woven Together
WHO: Bargain hunters, those who care about justice, parents and grandparents
DETAILS: A consignment sale is an event where you can bring your children's outgrown or unused items and make money from selling them. We are accepting the following: fall and winter clothing: boys' sizes Infant through 20, girls' sizes Infant through junior, maternity, seasonal shoes, Halloween costumes; sports equipment; clean equipment -- beds, strollers, high chairs, furniture, etc.; toys with all working pieces; books; media: videos, games, CDs, DVDs Visit website for more information about the Consignor Presale, VIP tagging and how you can help the life of an orphan. http://butterfliesconsignment.blogspot.com/
WHERE: 1100 Woodlawn Road
WHEN: 10 am-6 pm
(Continues through end of week, with Saturday hours 8 am-1 pm)
Diabetes support group
SPONSOR: Abraham Lincoln Memorial Hospital
WHO: People with diabetes mellitus. Family members, friends and caregivers also welcome.
DETAILS: Free meeting. No registration required. For more information, call Jennifer DiPasquale at 217-605-5535 or e-mail her at diabetes@almh.org.
WHERE: ALMH, Wombacher Room
WHEN: 11 am
Night golf outing fundraiser
SPONSOR: Lincoln & Logan County Development Partnership
WHO: Registered participants
DETAILS: (See article.)
WHERE: North Greens Golf Course, Atlanta
WHEN: 7 pm shotgun start
Saturday, Sept. 22
Lincoln Farmer's Market
SPONSOR: Lincoln Farmer's Market
WHO: Public
DETAILS: Local vendors with locally grown produce, baked goods, rag rugs, homemade dog biscuits, hand-sewn items, wood signs, jams and jellies, plants.
WHERE: Scully Park, 316 S. Kickapoo St.
WHEN: 7 am-noon
Farmers' Market
SPONSOR: Farmers' Market
WHO: Public
DETAILS: Fresh vegetables, fruits, herbs, plants, baked goods and crafts
WHERE: Latham Park
WHEN: 8 am-noon
Butterflies kids' sale
SPONSOR: Woven Together
WHO: Bargain hunters, those who care about justice, parents and grandparents
DETAILS: A consignment sale is an event where you can bring your children's outgrown or unused items and make money from selling them. We are accepting the following: fall and winter clothing: boys' sizes Infant through 20, girls' sizes Infant through junior, maternity, seasonal shoes, Halloween costumes; sports equipment; clean equipment -- beds, strollers, high chairs, furniture, etc.; toys with all working pieces; books; media: videos, games, CDs, DVDs Visit website for more information about the Consignor Presale, VIP tagging and how you can help the life of an orphan. http://butterfliesconsignment.blogspot.com/
WHERE: 1100 Woodlawn Road
WHEN: 8 am-1 pm
(Continued from Wednesday, Thursday and Friday)
Dog wash
SPONSOR: Humane Society of Logan County
DETAILS: (See information in Close Up.)
WHERE: Graue Inc., 1905 N. Kickapoo
WHEN: 10 am-1 pm
Cruise-in
SPONSOR: Railsplitter Antique Auto Club
WHO: Public
DETAILS: http://railsplitterantiqueautoclub.webs.com/events.htm
WHERE: Downtown Lincoln
WHEN: 5-8 pm
Sunday, Sept. 23
Dance Club
SPONSOR: Veterans of Foreign Wars Post 1756
WHO: Dance Club and public welcome
DETAILS: Music by Judy Kaye and friends. Fee reduced for members.
WHERE: Freedom Hall Event Center, 915 Fifth St.
WHEN: 6:30-9:30 pm
Monday, Sept. 24
Ready Readers Story Time
SPONSOR: Lincoln Public Library Youth Services Department
WHO: Children 5-7 years old
DETAILS: Mondays, Sept. 17-Oct. 29. Registration necessary for accurate planning. Call 732-5732 or stop by the youth services desk to register.
WHERE: Lincoln Public Library Annex
WHEN: 3:30 pm
Pale Riders Dance Club
SPONSOR: Veterans of Foreign Wars Post 1756
WHO: Public welcome
DETAILS: Everyone is welcome to come on out and enjoy an evening of dancing. There is a small fee every six weeks.
WHERE: Freedom Hall Event Center, 915 Fifth St.
WHEN: 7-9 pm
Tuesday, Sept. 25
Little Listener Lapsit Story Time
SPONSOR: Lincoln Public Library Youth Services Department
WHO: Children 6 months - 2 years
DETAILS: Tuesdays and Wednesdays, Sept. 18-Oct. 31. Registration necessary for accurate planning. Space is limited in each class. Call 732-5732 or stop by the youth services desk to register.
WHERE: Lincoln Public Library Annex
WHEN: 10 am
Book Buddies Story Time
SPONSOR: Lincoln Public Library Youth Services Department
WHO: Children ages 3 and 4
DETAILS: Tuesdays and Wednesdays, Sept. 18-Oct. 31. Registration necessary for accurate planning. Call 732-5732 or stop by the youth services desk.
WHERE: Lincoln Public Library Annex
WHEN: 10 am
Lunch and Learn
SPONSOR: Area Agency on Aging for Lincolnland
WHO: Informal caregivers of older adults; grandparents and other relatives raising children.
DETAILS: Presentation: Minimizing the Risk of Falls in the Home by Implementing Simple Changes"
(See article.)
WHERE: Oasis Senior Center, 501 Pulaski St.
WHEN: Noon
Grief Share
SPONSOR: Jefferson Street Christian Church
WHO: People struggling with pain of losing a loved one
DETAILS: Grief Share is a support group for people who are struggling to deal with the pain of losing a loved one. It involves prayer, opportunities to share your grief journey with others who are learning to cope, and a video curriculum of experts who share their knowledge as well as their own experiences with grief. No cost to attend. Fee for optional workbook. For more info, contact Greg Wooten at Lincoln Church of the Nazarene, 732-8362, or call Jefferson Street Christian Church, 732-9294.
WHERE: Jefferson Street Christian Church, Room 208
WHEN: 6:30-8 pm
(13-week series on Tuesday evenings through November)
Wednesday, Sept. 26
Little Listener Lapsit Story Time
SPONSOR: Lincoln Public Library Youth Services Department
WHO: Children 6 months - 2 years
DETAILS: Tuesdays and Wednesdays, Sept. 18-Oct. 31. Registration necessary for accurate planning. Space is limited in each class. Call 732-5732 or stop by the youth services desk to register.
WHERE: Lincoln Public Library Annex
WHEN: 10 am
Book Buddies Story Time
SPONSOR: Lincoln Public Library Youth Services Department
WHO: Children ages 3 and 4
DETAILS: Tuesdays and Wednesdays, Sept. 18-Oct. 31. Registration necessary for accurate planning. Call 732-5732 or stop by the youth services desk.
WHERE: Lincoln Public Library Annex
WHEN: 10 am
Lincoln Farmer's Market
SPONSOR: Lincoln Farmer's Market
WHO: Public
DETAILS: Local vendors with locally grown produce, baked goods, rag rugs, homemade dog biscuits, hand-sewn items, wood signs, jams and jellies, plants.
WHERE: Scully Park, 316 S. Kickapoo St.
WHEN: 3-6 pm
Farmers' Market
SPONSOR: Farmers' Market
WHO: Public
DETAILS: Fresh vegetables, fruits, herbs, plants, baked goods and crafts
WHERE: Latham Park
WHEN: 3:30-6 pm
Thursday, Sept. 27
Art and craft classes
SPONSOR: Lincoln Public Library Youth Services Department
WHO: Children 8-12 years old
DETAILS: Register starting Monday the week of each class. Classes continue on Thursdays through Oct. 25. Registration necessary for accurate planning. Call 732-5732.
WHERE: Lincoln Public Library Annex
WHEN: 3:30 pm
Saturday, Sept. 29
Lincoln Farmer's Market
SPONSOR: Lincoln Farmer's Market
WHO: Public
DETAILS: Local vendors with locally grown produce, baked goods, rag rugs, homemade dog biscuits, hand-sewn items, wood signs, jams and jellies, plants.
WHERE: Scully Park, 316 S. Kickapoo St.
WHEN: 7 am-noon
Farmers' Market
SPONSOR: Farmers' Market
WHO: Public
DETAILS: Fresh vegetables, fruits, herbs, plants, baked goods and crafts
WHERE: Latham Park
WHEN: 8 am-noon
Marine Corps League Roadside Cafe
SPONSOR: Marine Corps League
WHO: Public welcome
DETAILS: Pork chop sandwiches, chips and soda
WHERE: 915 Fifth St.
WHEN: 10 am-2 pm
Together for Lincoln community service day
SPONSOR: Together for Lincoln
WHO: Volunteers
DETAILS: http://www.togetherforlincoln.com/GetInvolved.aspx
(See article.) (Volunteers needed)
Sunday, Sept. 30
Together for Lincoln worship service
SPONSOR: Together for Lincoln
DETAILS: (See latest article.)
WHERE: Lincoln Christian University's Hargrove Chapel
WHEN: 7 pm