Outdoor environmental center to serve education, researchers and community
Creekside experiences more than just science

Send a link to a friend Share
[September 17, 2014] LINCOLN - On Saturday, Sept. 13, 2014, Lincoln College invited the community to celebrate the grand opening of Creekside, an Outdoor Center for Environmental Education.
Before the ribbon cut Lincoln College President John Blackburn and Creekside Director Dr. G. Dennis Campbell each took a few minutes to speak.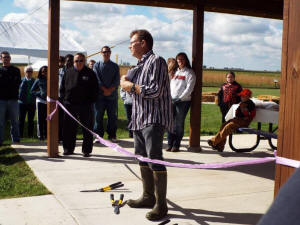 The grand moment, the grand opening of his vision,
Dr. G. Dennis Campbell.
President Blackburn expressed great appreciation for Dr. Campbell's vision as well as the support and labor the professor's wife Christine and their family provided. He looks for the center to be a significant asset to education and to the community.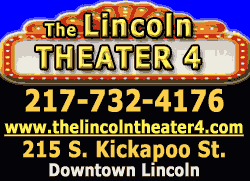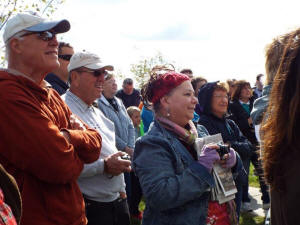 A happy moment for wife
Christine Ramirez-Campbell too
(blue jean jacket and big smile)
Dr. Campbell said that the center should serve as a point of education ranging from young students to scholarly endeavors, as well as for community service. He hopes to see responsible stewardship practiced and that the center will be able to be open for a number of purposes including night-time owl walks, fireside talks, and to bring out telescopes for star gazing.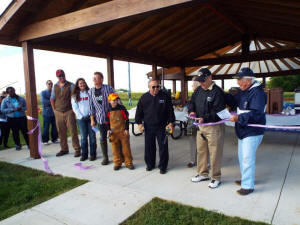 Grandson Georgie (orange cap) helped cut
the ribbon and gave the best
tours this day naming all sorts of trees and plants.
Dr. Campbell said that the use of the center would be "more than science," He was happy to share that it would be used for the arts, and even to host cultural activities.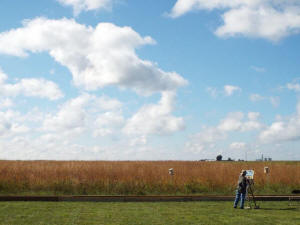 Pam Moriarty creates a natural landscape
using a special painting technique
Artist Pam Moriarty was out painting a grasses landscape on Saturday that was inspirational.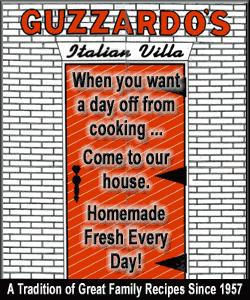 A play will be performed there for the next two weeks. Last year "The Tempest" was enjoyed out under the open dusky sky by audiences. This year the college's theatre department is bringing Shakespeare's "A Midsummer Night's Dream" to the center for an outdoor performance.
Special guests recognized on Saturday included Shirley Edwards, who donated the land to access the site; the Klockenga families that farm surrounding land; and Judd McCullum, the former student who found the mammoth tusk in nearby Sugar Creek in 2005.

In its mission statement, "Creekside is to enhance environmental education by supporting its integration across the Lincoln College curriculum and throughout the wider community."

Numerous schools in the surrounding area including Lincoln Community High School, Lincoln Junior High School, and West Lincoln Broadwell School, have already engaged their students at the Center.

A number of groups - Atlanta Rotary, Lincoln Rotary, Lincoln Kiwanis, Lincoln Rural Fire and Rescue have all jumped into participation performing physical labor, donating supplies and helping to promote the Center. Lincoln Rotary is having an educational coloring book for kids created by local artist, Kim Wiggers de Otte.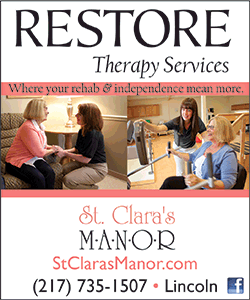 Interest has already reached well beyond the local community, Illinois State Museum has been a presence doing research, and researchers from other states have interests in coming to do studies. The center, its grounds, Sugar Creek and its banks will offer decades of diverse opportunities to many varied interests.

Creekside is one more means by which the college will continue to seek and live up to its motto: "Experience Outstanding, Lincoln College."
[By JAN YOUNGQUIST]
Past related articles
Aug 2006 - 20,000-year-old mammoth tusk and tooth found north of Lincoln
11-foot-long woolly mammoth tusk now on display at the Illinois State Museum
July 2012 - 'Elephants in Lincoln: A Mammoth Discovery'