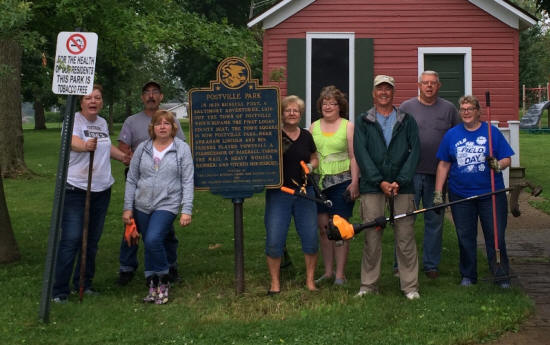 Last Saturday morning, a group of Logan County Board of Realtors gathered to prepare the Postville Park for the upcoming Route 66 Community Garage Sale. The park is always a big part of the day and the Realtors wanted to help our city put its best foot forward.

Those helping that morning, left to right: Nancy Cunningham, her husband Mike Cunningham, and Brenda Short from Brady Realtors. Becky Werth, Chris Cleeton, and Ted Perry from Werth and Associates. Ron Knollenberg from Knollenberg Real Estate and Auction Service. Pam Schreiner from the Nobbe Realty Group.

On Monday evening, City Administrator Clay Johnson, and Ward 2 Alderwoman Kathy Horn expressed appreciation to the volunteers for their help at the park.
Photo by Robert Kidd [Click on pictures for larger images]