At around 9 p.m. on Friday night Lincoln Fire was called to a report of visible smoke and possible fire on the third floor of the Logan County Housing Authority High Rise on North College Street in town. Lincoln responded and the first of the first responders inside the building verified heavy smoke on the third floor. Mutual aid was called with several department including Lincoln Rural and Mount Pulaski responding to the scene, Latham was called to serve as standby for any other calls at the Lincoln Fire station.

Streets were blocked off with assistance from Lincoln city and Logan County law enforcement.

The firefighters began evacuating the building starting with the first two floors. The evacuation was made more difficult due to some residents within the building lacking mobility.

By 10:40 p.m. the fire was under control, firefighters continued on scene assisting EMT with assisting residents. Health and well-being was assessed and several were transported to ALMH, though no serious injuries were reported.
Residents were allowed to go back into the building on the first, second, fourth, fifth, and one-half of the third floor. The American Red Cross was called in to assist in providing temporary shelter for displaced residents.

Photo by Nila Smith (Click on photo for larger version)

On Friday afternoon, Lincoln firefighters were called to an active alarm at the Wal-Mart Super Center in Lincoln. On scene, firefighters inspected the building and climbed up on the roof to take a look around. What they determined was that a broken water line had caused water to spray out, thus activating the fire alarm.

An employee at Wal-Mart said that when the alarm went off, staff didn't know what the exact circumstances would be, but evacuation protocol was followed. Customers were directed to leave immediately, the Wal-Mart associates also left the building gathering at their designated safe place at the far north end of the parking lot near the retention pond.

The scene was cleared by the fire department after about one hour at approximately 4 p.m.

Photo by Nila Smith (Click on photo for larger version)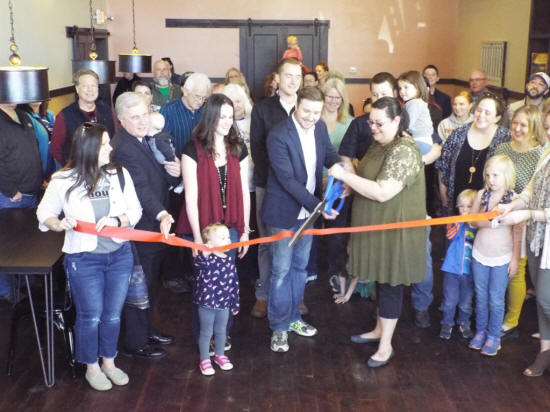 Friends, family, customers, local officials, and other dignitaries surround Nicole Cox and Ethan Hoinacki on Friday afternoon as the partners celebrated the grand opening of Guest House Coffee & Pastries with a ribbon cut.

Photo by Karen Hargis (Click on photo for larger version)