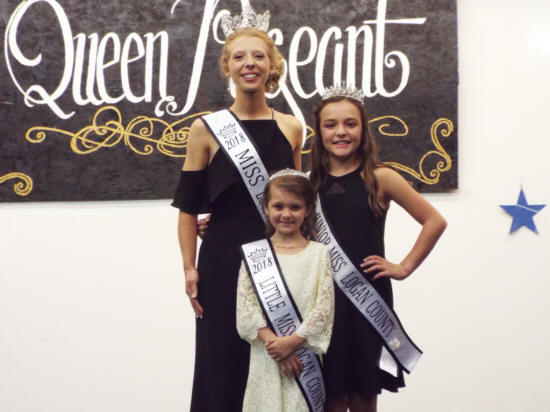 This morning, Logan County has a new set of royalty. Crowned last night as your 2018 Miss Logan County Fair Queen is Molly Schempp. Molly is the daughter of Darin and Cindy Schempp. She has grown up at the Logan County Fair, participating in 4-H shows from the arts and sciences to livestock. She attends Olympia High School, and has been accepted into the LLCEO program in Logan County for the 2018-19 school year.

Your Junior Miss Logan County for the next year will be Julia Collins of Atlanta. Julia is the daughter of Ashley and Josh Collins. Julia is no stranger to the crown. In 2011 she was crowned as the Little Miss Logan County Fair, serving the year with Queen Kelsi Ubbenga.

And finally, your 2018 Little Miss Logan County is Kylee Fulk of Chestnut. Kylee is the daughter of Krystal and Joshua Fulk.

Photo by Lisa Ramlow (Click on image for larger version)
On Tuesday morning the Logan County Fair officially began with a ribbon cutting ceremony near the main gate of the fairgrounds. There were a large number of people in attendance including Fair Board President Dean Bruns, members of the fair board, representatives from the city of Lincoln, State Representative Tim Butler, 2017 Royalty including Queen Meg Meeker, Junior Miss Karson Mott and Little Miss Logan County Elliana Park. Bruns offered up brief comments then turned to join Queen Meg in the snipping of the ribbon. And with a single motion, the 2018 Logan County Fair is underway!

Photo by Karen Hargis (Click on image for larger version)