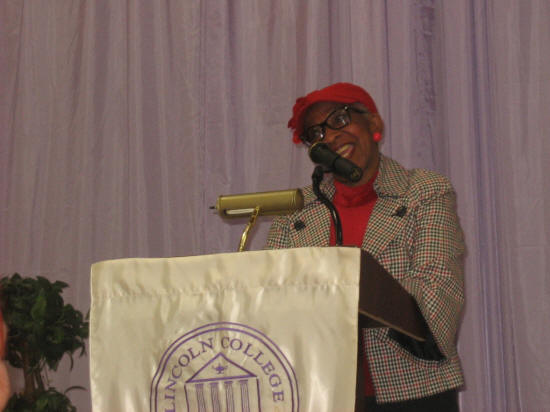 On Monday morning, the Davidson-Sheffer gymnasium on the campus of Lincoln College filled quickly for the Joyce Kinzie Martin Luther King Scholarship Breakfast.

The keynote speaker this year was Kathryn Harris, former Librarian at the Abraham Lincoln Presidential Library and historical interpreter known for her roles as Harriet Tubman and Elizabeth Keckley.

Harris spoke about the life and contributions of Martin Luther King, whose life calling was to push for equality between races. An activist for many years, Dr. King led many to the realization that the color of the skin does not identify the person inside and greatness comes from service. She ended her comments with King's quote, "Everybody can be great because anybody can serve. You don't have to have a college degree to serve. You don't have to make your subject and verb agree to serve. You only need a heart full of grace. A soul generated by love."
Photo by Angela Reiners (Click on photo for larger version)