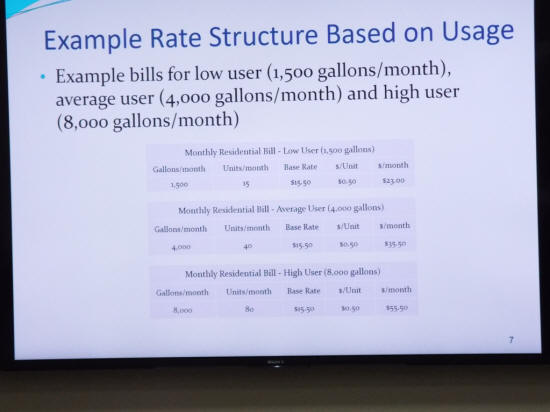 On Tuesday evening, Lincoln aldermen heard from representatives of Crawford, Murphy, and Tilly on how the city may earn enough money to finance a state-mandated upgrade to the city's sewerage system. The firm has been working with the city for the last few years, on an Illinois Environmental Protection Agency mandated "Long Term Control Plan" that is estimated to cost the city $20,000,000 in upgrades. To earn money to pay for this mandate, CMT is recommending the city move from a flat rate sewer fee to a fee based on water usage. They offered scenarios for three levels of water usage, low, average, and high users, and discussed how the scenarios would impact monthly sewer rates for Lincoln residents.

The photo above illustrates what the sewer bill could be based on the three scenarios.

LDN will have additional coverage of this presentation later this week.
Photo by Nila Smith (Click on photo for larger version)