At the Monday evening meeting of the Lincoln City Council Mayor Seth Goodman sought the advice and consent of aldermen for two appointments. Dayne Dalpoas (left) was approved by the council to serve as the Ward 4 Alderman filling the position vacated by Rick Hoefle. Beth Davis-Kavelman, who is a former mayor of Lincoln, was approved as the new city administrator with duties beginning effective immediately.
Photo by Nila Smith (Click on image for larger version)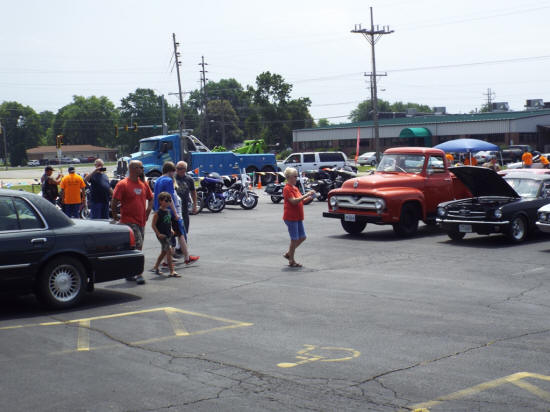 Visitors mill about the parking lot at Logan Lanes on Saturday afternoon enjoying the wide variety of vehicles on display as part of the Lincoln Park District Special Olympics 'Cruisin' for a Cause' fundraiser. The money brought in at the car, truck and motorcycle show; the pulled pork lunch, inflatables, face painting, and raffle will all go to the LPD Special Olympics program supporting a variety of needs, so that Special Olympians may participate in athletic competitions.

Photo by Nila Smith (Click on image for larger version)