| | |
| --- | --- |
| Broadway Street Main Branch | Sangamon Street Branch |
| Woodlawn Branch | Wal-Mart Branch |
| Clinton Branch | Clinton IGA Branch |
On day two of our "Paint the Paper Pink" campaign, the featured photos are those from the great folks at State Bank of Lincoln. The bank formed its charter in 1903 with one building in Lincoln. But over time, it has branched out to several points in Lincoln, plus a branch in Clinton. We applaud their growth and appreciate their continued support of the community.

Did you know, metastasized breast cancer can impact many areas in the body. Though the disease may travel to other functioning organs, it is still classified as breast cancer. All the more reason to be checked out regularly, and catch the cancer quickly, in its earliest stages.
Photos by Karen Hargis, Roy Logan and Brandi Rawlins
---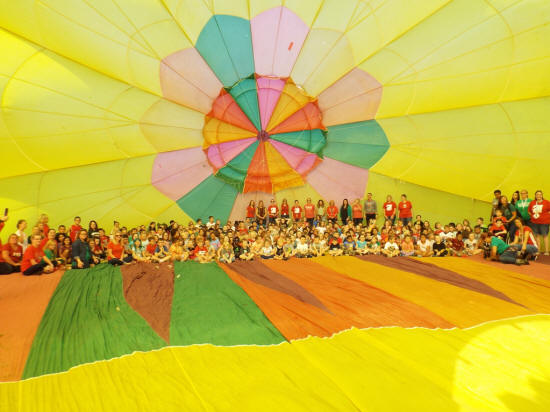 On a bright sunny Friday morning in September, Donna Carlton Vish traveled from Danville to Northwest school in Lincoln. She brought with her a retired balloon that she used to fly. After a "cold inflation," all the children at the school assembled inside the balloon. Vish spoke about ballooning and fielded questions from the group.
Photo by Nila Smith