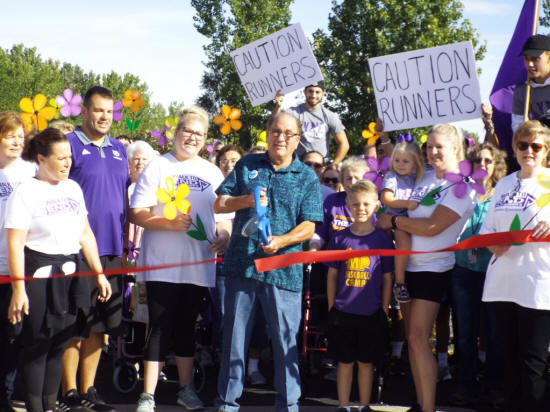 John Guzzardo snipped the ribbon marking the beginning of the second annual Alzheimer's Walk at the Oasis track in Lincoln on Saturday morning.

The day began with speeches from Michelle Ramlow, a volunteer with the Alzheimer's Association. Paul Boatman, whose wife Mary had Alzheimer's and passed away last year, spoke and sang a song he and his wife wrote together. Guzzardo also spoke and led the group in prayer. The group was led through a quick Zumba session by Janell Woolard. After the arrival of about 45 student runners from Lincoln College, the ribbon cut was the official start of the walk.

Swim coach Johnathan Jordan accompanied the students from Lincoln College. They ran from Abraham Lincoln Memorial Hospital to the Oasis as part of their contribution to the walk.
Photo by Nila Smith
---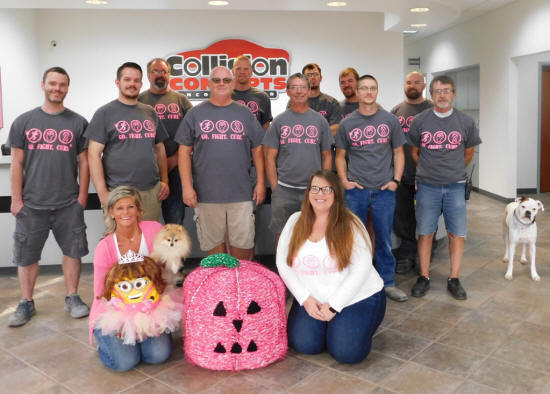 Each year in October, Lincoln Daily News paints its pages pink for breast cancer awareness. The paper also features local businesses and citizens who chose to wear pink on Friday's. They do so in honor and memory of all the people they know and care about who are fighting the good fight. Some have fought and won that battle and others have claimed the ultimate victory of eternal life free from cancer and free from pain.

Today, the first pink picture is of the owners, staff, and fur babies at Collision Concepts. This group goes first every year because they are the ones who brought the notion to LDN to Paint the Paper Pink. They wear pink for close friends they have who are or have been battling breast cancer.

This year, they also chose to add to their photo two of the terrific items that will be auctioned this Thursday night at the Pink Pumpkin Fundraiser Auction. The auction will be at Collision Concepts. Doors open at 5 p.m. with a silent auction and Kiss the Pink Pig. At 6 p.m. the live auction will begin featuring more than 50 pink pumpkin-themed items.

All are welcome to attend.
Photo by Roy Logan