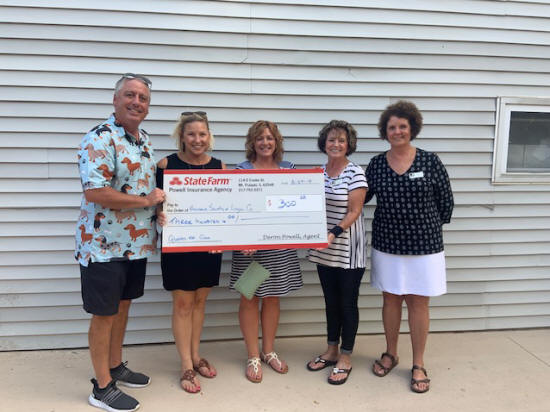 During August, the Deron Powell State Farm Agency participated in "Quotes for Good," a giving opportunity sponsored by State Farm. Throughout the month quotes for new insurance coverage with the agency earned $10 per quote for the charitable organization of Powell's choice. He chose to support the Humane Society of Logan County. On August 30th, Powell accompanied by the State Farm Sales Leader in the Springfield territory, Sara Freitag, to present Humane Society of Logan County with a check for $300.

Deron wishes to thank all those who called or came in for quotes. Each one contributed to helping fulfill the mission of the HSLC.

Left to right: Deron Powell and Sara Freitag, and representing HSLC - Abby McCarty, Marilyn Wheat and Lynnette Maske.


Photo provided by Deron Powell (Click on Image to enlarge)