NOTICE TO LINCOLN RESIDENTS
UNION STREET RE-PAVING BEGINS WEDNESDAY
Beginning Wednesday morning, repaving of the 100, 200, and 300 blocks of Union Street will begin. The road will be closed starting Wednesday morning at 7 a.m., it is expected to be open by Friday afternoon. If you normally travel this street please choose an alternate route during this project.
If you have any questions, please call the Lincoln Sewer Department at 217-732-4030, or email the Union St. Project team at unionstreet@lincolnil.gov.
City of Lincoln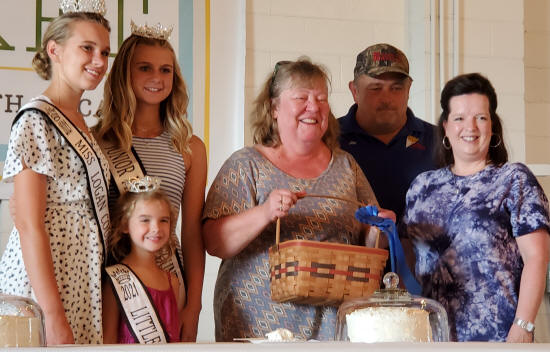 Dana Oltmans was the first place winner at this year's Logan County Fair Cake Classic on Sunday. Her white butter cake with frosting then sold at the Cake Classic Auction. The buyers were Jim and Darcy Culler of Culler's Fries bid $1,800 for the cake.

This year the cake classic blew all past records out of the water, raising $7,200. The money raised at the auction goes directly to the Logan County 4-H for programs.

Oltmans is pictured with the Culler's and Logan County Fair Royalty Queen Caroline Ahrends, Junior Miss Jaelynn Anderson and Little Miss Sofia Farmer.

Oltmans also won the Annie McLaughlin Memorial Award.
Photo by Angela Reiners (Click on image to enlarge)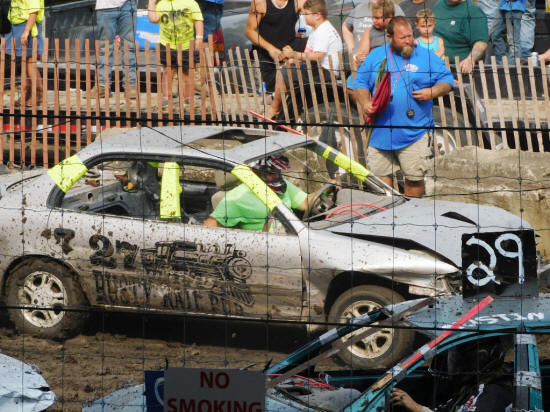 Logan County native Alicia Petro thrilled and impressed the audience at the Logan County Fair Demolition Derby on Sunday. Petro finished third in Compact class at the derby. Her car was sponsored by the Rusty Rail Grill and Pub in Lincoln. With many cars entering the Bone Stock and Compact classes the last event in front of the grandstand at the fair was excitement from beginning to end.
Photo by Nila Smith (Click on image to enlarge)