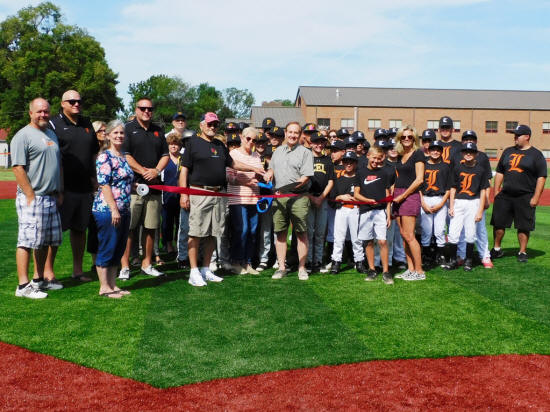 On Saturday morning, a dream more than 15 years in the making came true at the Lincoln Junior High School Ralph Gale Baseball Field. Thanks to a grant funding the project, the field is now the first turf field in Logan County.

A ribbon-cutting and grand opening ceremony were held before the new diamond's inaugural game with LJHS competing against Chester-East Lincoln. LJHS Board President Steven Rohrer was joined by Woody and Sue Jones in snipping the ribbon. The trio was surrounded by LJHS staff and school board members, representatives from the city of Lincoln and the CEL and LJHS baseball teams.

Jones, who donated the scoreboard, was honored with the first pitch for the game.
Photo by Nila Smith (Click on image to enlarge)