Last weekend was excellent weather for the Mount Pulaski Fall Festival. Festivities began on Friday evening and continued with a terrific parade on Saturday. Phyliss Beccue was chosen Grand Marshal for the 2021 parade. Beccue, a 32-year educator and small business owner was completely taken by surprise by the announcement. She happily sat on the back of a little red convertible and rode through town waving and smiling at friends and more than a few former students.
Photo by Teena Lowery (Click on image to enlarge)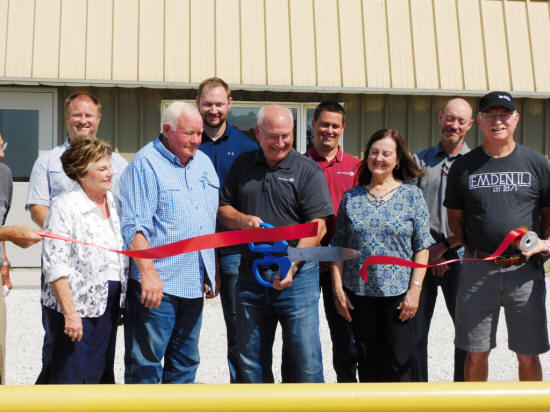 On Friday, September 10th, Sun Ag, Inc in Emden celebrated its first anniversary with a customer appreciation day and ribbon-cutting ceremony.

Sun Ag, Inc., owned by Dave and Lori Neisler, took over ownership of Tri-Ag owned by Don Batterton on September 10th, 2020. Because of the coronavirus, the two companies were unable to celebrate the transition publicly. Therefore they decided to do it up right at the one-year anniversary.

Dave Neisler snipped the ribbon on Friday while wife Lori, Don and Debbie Batterton, Emden Mayor John Snyder and Sun Ag staff looked on. Also behind the ribbon, but not in the photo was the original owner of the fertilizer company, Tom Komnick.
Photo by Nila Smith (Click on image to enlarge)