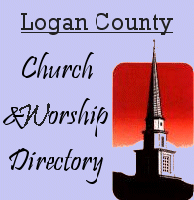 Holy Family Parish
316 S. Logan
217-732-4019
Priest:
Msgr. E. Edward Higgins
Associate:
Rev. Thomas Taylor
Mass:
Sat. 5:00PM
Sun. 7:30AM, 9:00 AM
& 10:30AM
Lincoln Christian Church
204 N. McLean
217-732-7618
Preaching minister:
John Castelein
Worship:
8:30AM & 11:00AM
Website: www.lincolnchristianchurch.org
Trinity Episcopal Church
402 Pekin St., Lincoln
217-732-7609
Pastor: James Cravens
Worship:
7:30 & 9:45AM Sunday
9:00AM Tuesday-Friday

Kingdom Life Ministries
2500 Woodlawn Road
217-732-1466
Pastor: Joe Bennett
Worship:
10AM & 6:30PM Sunday

Lincoln Bible Church
2316 N. Kickapoo St., Lincoln 217-735-5959
Pastor: Don Hoover, phone 217-735-4641
Worship: 10AM Sunday
Sunday School: 9AM
Home Bible class: 6:30PM
Overcomers in Christ:
7PM Tuesday
Teen Club (7th-12th grade); Kids in Christ's Service (1st-6th)
7PM Wednesday
Good Shepherd Lutheran Church Association of Free Lutheran Congregations
1140 N. State St., Lincoln
217-735-9320
Pastor Roger David
Worship:
10AM Sunday
Sunday School:
9AM
E-mail: gslc@ccaonline.com
Immanuel Lutheran Church ELCA
1409 Pulaski St., Lincoln
217-732-6777
Pastor Dan Wissmann
Worship:
9:00AM Sunday
Zion Lutheran Church
Lutheran Church-Missouri Synod
205 Pulaski St., Lincoln
217-732-3946
Pastor Mark Carnahan
Worship:
8:00 & 10:30AM Sunday
Radio, WLLM-AM 1370:
8AM Sunday
TV, Cable Channel 15:
10:00AM Sunday
5:00PM Monday
First United Methodist Church
302 Broadway St., Lincoln
217-732-2204
Pastor: Jame Hahs
Worship:
8:30AM Traditional
11AM Contemporary
Sunday School:
9:45 AM
website: www.gbgm-umc.org/
lincoln1stumc/index.html
To inquire about listing your congregation's worship information, please e-mail us at ldn@lincolndailynews.com or call us at (217) 732-7443.
---
---
Camp responds to collapse of youth, requests prayers

Send a link to a friend
[JULY 26, 2003] The staff of Camp CILCA, rural Cantrall, extends its heartfelt sympathy to the family of camper Ryan Van Sandt.
Van Sandt, age 13, had just finished taking a lifeguard-supervised swim test at the beach area of the 12-acre camp lake on Monday, July 21. Afterward he complained to his friends of numbness in his hands and of being very tired. He then collapsed while standing in knee-deep water.
The Red Cross-trained camp staff followed the emergency action plan that was in place and took all appropriate measures, which included CPR. Emergency rescue personnel were called immediately. Upon arrival at the scene, they took over all lifesaving measures and transported him to St. Johnís Hospital.
Parents of all campers were notified of the situation and given the opportunity to visit or talk with their children, and local pastors and grief counselors were brought in by the staff to help the campers cope with this tragedy. Counselors continued to be available throughout the week, until the campers returned home.
Camp CILCA, an acronym for Central Illinois Lutheran Camp Association, is a Lutheran summer camp, located north of Springfield. The 225-acre camp has been in operation since 1950 and has served approximately 900 campers each year for the past several years. The Christian-based summer camp program has been run for the last 13 years by Rich Harkins.
The camp director and his staff encourage everyone to support and pray for the Van Sandt family, as well as the other campers who were present during the time of this loss.
[News release]