August mutterings

Send a link to a friend
By Jeff Mayfield
[AUG. 4, 2003] I wanted to take an end-of-the-summer "Mutterings" look at things to do during your last few days of summer. Keep in mind that I realize that money IS an object, so most of these won't squeeze those last few bucks out of the purse or wallet. I also realize that you loyal "kid" readers are dependent on your parents taking you to some of these places. All I can tell you is to be creative when it comes to asking if they will. My sister, brother and I went to great lengths to hone those asking skills, and sometimes that REALLY paid off! Also, these outings, events, excursions, etc. will not be appearing in rank order… Heck, are you kiddin'? My son's already buggin' me daily to take him to Chuck E. Cheese's or Jungle O Fun (two fine establishments, but not really what we're after here)…
Swimming
For good old-fashioned summer fun, it's hard to beat swimming, especially this time of year. And since Lincoln and the surrounding area are blessed with such fine swimming establishments, I say use 'em. The Lincoln Rec pool and the Elks pool can kill off some of the hottest summer days; you might even be able to get into LC's fine aquatic center. I know that surrounding communities in the area also have some nice swimming centers. Check your local listings to find what's available. For the price, you're not gonna get much more fun.
The pools also offer a fine assortment of swimming lessons through our outstanding local YMCA. Use 'em. And if you are older and never learned to swim, call the Y and see what they can do for you. The Y also did some lessons in neighborhood pools; we liked that idea! (Think that'll persuade my wife to put a pool in my back yard? The bright side for her is that she wouldn't have to remind me to mow as often!)
For those of you who are looking for the Christian family experience, you might give Ken Rutledge a call over at Little Galilee Christian Assembly. They have a great pool over there, and you may be able to make him an offer for use during non-camp times, perhaps on the weekends?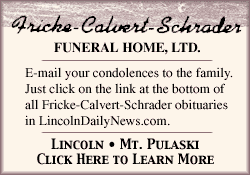 Area lakes
Another hardy swimming suggestion is to check out one of the many fine lakes in our area. The LDN sports editor put his money where his mouth is by taking his youngster to Clinton Lake the other day. It costs a very reasonable buck a head. This may come as a surprise to you, but my offspring can't differentiate between Long Beach, Xanadu Beach and Clinton Beach. While I realize that most of you can, you can't be on one much quicker than the 40 minutes it takes you to get to the one in DeWitt County. They have nice restroom facilities and a restaurant, snacks and a bar. They did not rent out pontoons or fishing boats this summer but hope to next summer.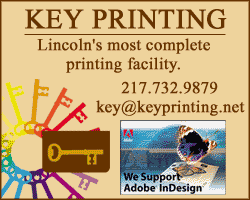 My son loved that trip to the lake. And if dad would have remembered to apply the sunscreen, father and child wouldn't be peeling like one of the Crocodile Man's favorite king snakes right about now! The very sandy beach goes on for what seems like forever. The lake there obviously has a very sandy bottom, and there is some shade back by the fence for those who can't take a lot of sun. We built sand castles, buried people in the sand, played ball with kids from three counties, ate a picnic lunch, then went to the snack bar because someone was STILL hungry to get some fries and a slurpee, and just had a great time on our excursion. I give it high marks.
You can also check out Weldon Springs while you're in the greater Clinton area. It has a nice little lake, and they rent out paddle boats and rowboats. There are some good hiking trails and places to camp for those who want the overnight or the weekend getaway. You might be surprised how nice it is being so close to Lincoln and Logan County. They too have a restaurant and snack bar area. For the nature lovers, there are plenty of geese and ducks around to get you excited too.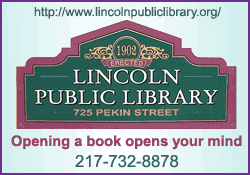 Probably the nicest lake in the Midwest is the one located over by Shelbyville, and it shares the same name. It is one of the clearest and cleanest lakes and offers loads of recreational possibilities. They have a wonderful beach for swimming, and it's a great lake for fishing and boating. I use to slay the crappie on that lake, and I'm really not that good a fisherman. For the golfer there are some nice tracks over there, and for the shopper plenty of small towns with plenty of shops. All in all, a family getaway that should deliver.
Area golf
For our first installment on area golf, I want to offer the newly expanded course over in Greenview. About 40 minutes from downtown Lincoln, if you don't get caught watching the paint dry, and you're nestled in a fine Illinois layout.
Perhaps I'm not too subjective on this one, as I somehow managed five pars and shot by far my best round of the year, but it is a great little track nonetheless. The greens are very small, forcing you to target and focus at every turn. The ball carries well there too unless it was just hotter than I expected while I was there.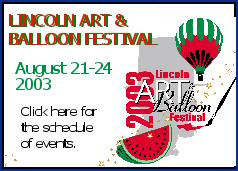 The front nine is defined by an almost unheard of back-to-back par 3s and has some interesting twists, turns, doglegs and other features. Obviously, like on all courses, there is a premium for staying in the short grass, but the rough doesn't punish you as much as you probably deserve. Par 5s must be birdied here in order to keep your score respectable. If you can really control your driver, you can make it a little easier on yourself, but a 3-wood or a 3-iron is all you need to get yourself in position.
The newly created back nine is longer, much more wide open and puts those famous prairie winds into play. Again a par-3 hole steals the show, as the No. 11 green is surrounded on three sides by water, with bunkers on the un-watered side. I was ecstatic to make par on that hole in the high winds. Some of you really exceptionally long hitters may be able to drive a couple of the par-4 greens; that could have a tendency to drive down your score! Pretty astute, huh? The big thing on the back is not to let the ball get hung up against the wind and not to try to just tee it high with the wind. It's better to knock it down and keep it out of the higher grass. The rough on the back nine is a little nastier than the front nine rough.
Country Hills Golf Course is celebrating its 10th anniversary, and now would be a good time for you to discover it. Chances are you already have. On a five-star scale with five being a resort and one being a field or a sandlot, I give this course a 3˝-star rating and climbing. They have done a great job with this layout and have maximized it in almost every conceivable way. Hats off to the crew at Country Hills for letting the LDN tour the course to give this review!
Stay tuned… More LDN reviews and suggestions are on the way…