---
---
Submit letter to editor online
---
Contact us
---
LDN is best viewed with
Internet Explorer 5.0 or 6.
---
LDN awards
Local:
Dec. 16, 2001
Local Emergency Planning Committee
Jan. 25, 2001
Logan County Healthy Communities Partnership
State:
Oct. 1, 2001
Illinois Public Health Association
posted daily OVER THE NOON HOUR (CDT)

=
[click on picture for larger image]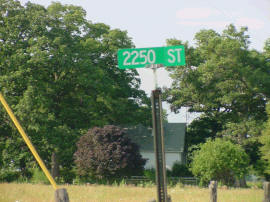 North on Lincoln on this quiet country road sits a contraption that many speculated was a strange grain grinder, a communication device for talking to aliens, or even a private spacecraft for travel to the planets.
As it turns out, it is in reality a working wind generator and provides most of the power for the house that sits on the lot in front of it.






Vehicle seat restraints for children detailed in new law

44th District update

Marriages and dissolutions

Weekly court reports

Zion Lutheran Church welcomes education director

Women's mini retreat at Immanuel Lutheran Church

Quail Unlimited annual banquet

ISU announces Hall of Fame inductees, 'Stretch' Miller Award winner
LDNs of the past week: