[AUG. 11, 2003] What: Free "Financial Peace of Mind" seminar for senior citizens
When: Wednesday, Aug. 20, at 10 a.m.
Where: The Oasis, 501 Pulaski St. in Lincoln
Sens. Larry Bomke, R-Springfield, and Bill Brady, R-Bloomington, along with the Office of the State Treasurer, will offer tips on protecting yourself from financial fraud, how to avoid the latest scams and ways to avoid identity theft.
The Cash Dash program will be on hand to assist seniors in checking for unclaimed property. A collection of military service medals from the unclaimed property vaults will also be on display as part of the treasurer's quest to reunite the medals with veterans and their families.
[to top of second column in this article]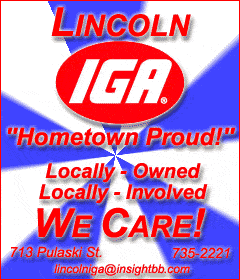 Bomke and Brady will also provide information on the state's new prescription drug discount program for seniors and the state-national "do not call" list to lessen telemarketing hassles.
The program will begin at 10 a.m. and refreshments will be served.
For more information, please contact the senators' offices at (217) 782-0228 or (309) 664-4440.
[News release]