Teens and seniors learn
from each other

Send a link to a friend
[AUG. 15, 2003] It appears that in todayís world similarities are few between the teenage generation and the senior set. Dominic Dalpoas, director of The Oasis senior center, disagrees with this statement. The Oasis is bringing both groups together to show that they have a lot in common.
At the senior center Dalpoas has teenagers come in to help out. The teens do various projects. Currently two students, Abby Ebelherr and Miles Musick, are volunteers.
Both students are on the honor roll at Lincoln Community High School. Abbey is working with senior citizens to compile recipes for a cookbook. Miles Musick is helping the center get ready for the flea market scheduled for Aug. 22-24, during the Lincoln Art and Balloon Festival.
The help is important and it is nice to have, Dalpoas said, but help is not the main benefit derived from this program. The idea behind the program is integration, a mixing and mingling of the senior group and the teens. The senior citizens can serve as a window for the teens to look through and see the kind of things they will experience as they grow old. Bringing the groups together gives the teens an opportunity to see what they can expect in their lives.
[to top of second column in this article]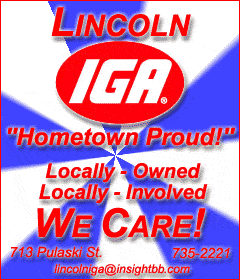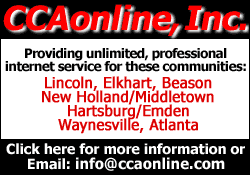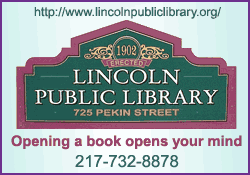 The seniors also learn from the teens. By intermingling they are able to learn what young people are experiencing. In this way both groups learn from each other.
"We have done similar projects in the past," Dalpoas said. "Last March we held a teen-senior dance. Both groups seemed to enjoy that very much. We plan to have the dance annually." [See LDN article: "Lincoln High School and The Oasis team up for Senior Dance 2003"]
Dalpoas did say that with current projects they would like to have more young volunteers. Hopefully, more teens will join in as word of The Oasis project gets out.
Any project where groups who see the world differently come together to see the world through each otherís eyes can only make the Lincoln community a better place.
[Don Todd]