---
---

---
---
Submit letter to editor online
---
Contact us
---
LDN is best viewed with
Internet Explorer 5.0 or 6.
---
LDN awards
Local:
Dec. 16, 2001
Local Emergency Planning Committee
Jan. 25, 2001
Logan County Healthy Communities Partnership
State:
Oct. 1, 2001
Illinois Public Health Association
posted daily OVER THE NOON HOUR (CST)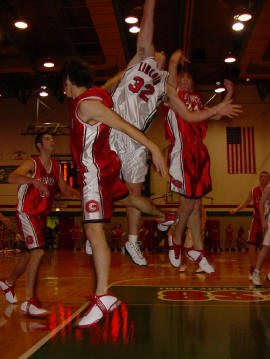 Railers beat Glenwood-Chatham 55-31
[Picture by Bob Frank]
Click on picture for larger image
Click here for more pictures from the game

---
Snow Advisory, light snow could cause traffic delays:
A WEATHER SYSTEM OVER S. LOUISIANA WILL CONTINUE TO BRING PLENTY OF MOISTURE NORTHWARD INTO THE MIDWEST. SNOW HAS DEVELOPED OVER WESTERN IL & WILL SPREAD ACROSS THE AREA TODAY. EXPECT THE HEAVIEST SNOW AMOUNTS ALONG THE I-72 CORRIDOR.
THE NATIONAL WEATHER SERVICE HAS ISSUED A WINTER WEATHER ADVISORY IN EFFECT UNTIL 10 PM CST THIS EVENING.

SNOW WILL CONTINUE TO INCREASE IN COVERAGE & INTENSITY TODAY OVER WEST CNTL IL. EXPECT TWO TO FOUR INCHES OF SNOW ALONG AND WEST OF A RUSHVILLE TO VA TO JACKSONVILLE LINE BY THIS EVENING.BEFORE TAPERING OFF TO FLURRIES.

A SNOW ADVISORY IS ISSUED WHEN LIGHT SNOW IS EXPECTED TO DEVELOP. BUT ONLY ENOUGH TO CAUSE MINOR INCONVENIENCES SUCH AS TRAVEL DELAYS. NO SEVERE WINTER WEATHER IS EXPECTED AT THIS TIME.




Submit a classified ad online [Lowest cost for advertising in the county!]





County discusses ETSB proposal; dog adoption fee to be lowered

Illinois EPA releases new data on landfill capacity

Bradley University professor Kevin Stein appointed as Illinois poet laureate

Entertainment tonight at Einstein's

Death of athletes from natural causes?
LDNs of the past week: